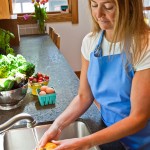 About me, Bevin Wallace
I grew up in the era of Squeeze Parkay, Funyuns, and the Fry Baby. Luckily for me, my mom has always been a fantastic cook. Her ambitious cooking — which included things like duck enchiladas, paella, and Swiss fondue — introduced me to many "exotic" new flavors and showed me that it's okay to experiment in the kitchen. As kids, my sister and I fearlessly combined oysters with garden herbs, basted pork chops with mustard, battered and fried ice cream and green chiles (that Fry Baby sure came in handy), and created several new flavors (and colors) of Rice Krispie treats. Since then, I've become a wife and a mother and now strive to help others gain confidence in the kitchen. I truly believe that eating well is one of life's great joys, and I want to share this love of creating and eating delicious real food with as many people as I can.
My professional background includes stints as a publicist for Martha Stewart, as a catering menu writer, as a waitress, as a copywriter for holistic-lifestyle products, and many years as a magazine writer and editor. Many of my writing assignments over the years have been about healthy lifestyles, outdoor adventure, and parenting — and recently more and more about my favorite subject of all: food.
I am not a trained chef or a licensed nutritionist, but what I am is a fearless home cook who wakes up in the morning thinking about food. I love planning and cooking meals for my family and friends. I really enjoy grocery shopping. As a writer, I've spent a lot of time researching food issues, health trends, and kitchen techniques. I've been to cooking school and I devour cookbooks like they're The Hunger Games, but most of my training has been in my own kitchen, tying on an apron and experimenting — just like my mom with her duck. I truly believe a little confidence in the kitchen is much more important than culinary skills or talent.
Like you, I'm always short on time. I don't have a personal assistant, my kids would rather go to the Apple store than the farmer's market, and I don't live in NYC with a gourmet shop around the corner. I'm still learning, but I can't resist sharing the shortcuts, delicious recipes, and health information I've gleaned over all these years as a food fanatic and working reporter. Mostly, I hope to inspire people to get back in the kitchen in a real life way. And you know what? With a little planning, some expert advice, and a few kitchen secrets, it's actually pretty doable. Dare I say it's even fun? And it tastes delicious.
» Learn more about my Kitchen Coaching programs.
My Philosophy
Amid a lot of confusing nutritional information, one thing is clear: The Standard American Diet (SAD for short) is just plain bad for us. It consists mainly of processed and packaged foods that lack the healthy nutrients we need while being full of preservatives, pesticides, artificial colorings, and highly refined flours and oils that can make us sick, overweight, and, in fact, sad. I believe that in order for us to be truly healthy and happy, we need to rediscover real food.
But there are real reasons so many of us eat the way we do. We're too busy to cook, we grew up with Hamburger Helper, and it can be an uphill battle getting the kids to eat brown pasta and broccolini. Oreos taste good and frozen pizzas sure come in handy. I get it.
But a delicious meal made from real food can make a lot of our problems a lot better. On top of being delicious and beneficial for your health, eating good food makes people happy and brings families together, it makes us slow down and appreciate what we have, it models good eating habits for our kids, and it can make every day a little more special. Real food is worth the trouble. And it really isn't that much trouble.