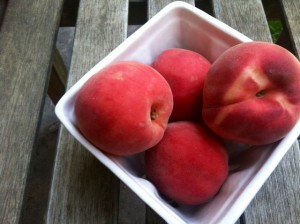 Every year since I started this blog, at about this time in the summer, I write a kind of drooly post about fresh peaches and how much I love them and what to do with your bounty of beautiful fruit (such as Summer Peach Caprese, Grilled Peaches, Peach & Roasted Tomato Salsa, Easy Peach Crisp, and Chicken Salad with Peaches & Goat Cheese Vinaigrette) — besides eat, swoon, and wipe the juice off your face.
The usually perfect peaches from Palisade on Colorado's western slope are usually plentiful starting about now. Well, not this year. I was shocked last night to see only peaches from California at our local Whole Foods. On July 25th! This year's bitterly cold spring (Ugh, remember we had weekly blizzards for most of April and into May?) froze about half the peach crop and made the remaining peaches late. Ah, well, something to look forward to, right?
But in case you're in a place not suffering from summer peach withdrawal, I wanted to share a peach something I recently made (with California peaches, sigh) that I loved. This Summer Peach Vinaigrette is tangy and slightly sweet and delicious on vegetables, green salads, and grilled chicken (preferably all in one dish). I made a couple extra jars and gave them as hostess gifts. One friend tried it and immediately scrapped the salad she had planned for her party and used this instead. I loved that.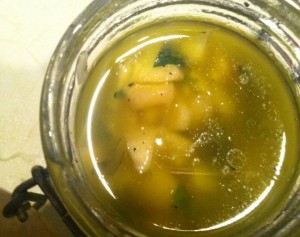 Summer Peach Vinaigrette
Ingredients
1/3 cup white balsamic vinegar
1 garlic clove, minced
1 tbs. honey
Hefty pinch freshly ground pepper
Pinch salt
2 tbs. olive oil
1 large peach, chopped (Organic; peaches are on the Dirty Dozen)
2 tbs. chopped fresh basil leaves
Combine first 6 ingredients in a jar with a tight-fitting lid. Shake well; stir in chopped peach and basil. Shake again before serving.
Stay tuned for more peachy things once the goods are here!