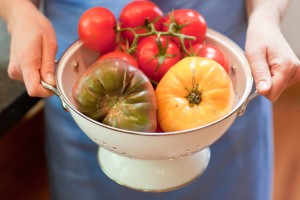 About this time last year, I wrote a post for another blog called "Let Food Be Thy Medicine." It was mostly about the commercialization of breast cancer and how promoting potentially cancer-causing foods like high-fat Kentucky Fried Chicken and hormone-laden Yoplait Yogurt just because their packages sport a pink ribbon during the month of October might not be the best way to make people aware of (or find a cure for) the disease. While I do think, on balance, the pink ribbons do more good than harm, I wish the focus of all that pink-mojo and awareness would shift toward educating people about things we can all be doing — while researchers continue to look for a cure — on a daily basis to protect us and our families from cancer. And the first place I would start is by promoting anti-cancer foods — even though the blueberries and broccoli aren't tied with pink ribbons.
Before he passed away in 2011, Dr. David Servan-Schreiber, M.D., Ph.D., staved off a brain tumor for 20 years. During that time he wrote AntiCancer: A New Way of Life. The book is a detailed story of the author's own diagnosis and how it led him to study the affects of diet and lifestyle on cancer, plus a prescription for leading an anti-cancer life. If you don't feel inclined to pick up a copy, you can take a minute to check out Servan-Schreiber's list of "20 New AntiCancer Rules." The rules — including switch to whole grains, cut down on sugar, and choose organic whenever possible — are pretty much a good idea even if you don't believe it's possible to prevent cancer.
Or at the very least, you can have my anti-cancer grocery list. I came up with this list by reading many studies on cancer-fighting foods — some of these foods fight inflammation, which fuels cancer growth; some are high in antioxidants, which block cancer-promoting free radicals; some detoxify the body; and some just put up a good fight against the disease — all without any side-effects. My research left me with a very long list, which I then pared down to things my family likes and I know how to cook. Thus, we have sweet potatoes and curry but not much tempeh. It's not all we eat of course, but it is pretty easy to add these to your diet.
My Anti-Cancer Grocery List
Blueberries (anti-oxidants)
Cranberries (same)
Yogurt (probiotics; buy plain & organic)
Green Tea (I wish I liked this…)
Rainbow chard (here's a delicious way to make it)
Tomatoes (we'd be eating these anyway, especially in this)
Flax seed (omega-3; add to smoothies)
Garlic and onions (add these to just about anything you cook)
Carrots (try this)
Sweet Potatoes
Squash
Broccoli, brussels sprouts, and cauliflower (cruciferous veggies contain cancer-protective compounds)
Beans (lean protein)
Tumeric (the main spice in curries)
Pomegranates (anti-oxidants)
Walnuts (omega-3)
Edamame (natural soy contains phytoestrogen)
Chicken (organic and free range; this is a good source of lean protein)
While I'm on the subject of shopping, I have to admit I kind of have my eye on these.