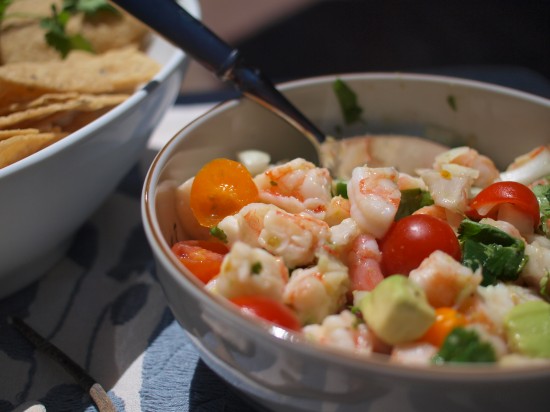 We just got home from Mexico and I miss it. A lot. I miss the incredibly blue water, the warm salty air, our Gaudi-esque sand castles, the smoothies (of which I think my daughter might have set a record for consumption), the long days without WiFi — and of course I miss the food. The area where we stayed is known for enormous grilled prawns and spicy Mayan fish, and I ate a lobster dish in our hotel's funky little restaurant that ranks as one of the best things I've ever tasted. But what I've been craving the most since we got home is ceviche, which in case you haven't tried it, is this crazy-delicious dish of fish "cooked" in acid (i.e. lime juice), usually with tomatoes and lots of cilantro. It's tangy and light and about the most perfect thing I can think of to eat under a palapa. We ordered it every day for lunch, sometimes dinner too — and of course for happy hour with a "kinda cold" Negro Modelo.
So, instead of moping around the kitchen and pining for the beach, I made some ceviche. And it definitely cheered me up. Since it requires nothing more than some chopping and assembling — and it just might be the ultimate light summer meal — I'll be whipping up more and more ceviche once it starts getting hot around here. In case you're wondering if the kids like it, they do. Well, my daughter mostly just picks out the avocados, which is perfect since my son likes everything but the avocados (of course).
I don't know why, but if you look up ceviche recipes on the internet, most of them are very complicated. I knew it didn't have to be that way and consulted my friend G who was with me on our trip to Mexico last year when the fishing guide Angel came back to the casa with us and made ceviche from the fish our manly seafaring husbands had caught that day (in exchange for whatever tequila and beer we still had at the house). I took some photos of Angel at work, but most of what he said was lost in translation to all but G, who speaks Spanish fluently. I added a few things (avocado, raw rockfish), but otherwise stuck to her remembrance of Angel's method, which is so simple she was able to give it to me a 20-word text ending with, "Booyah!"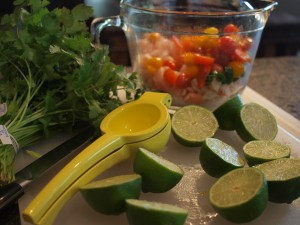 Mexican Ceviche
Ingredients
1 lb. cooked shrimp (you can buy raw shrimp and steam it for a few minutes or do what I did and buy the peeled, cooked kind)
1/4-1/2 lb. rockfish or other mild white fish
1 pint organic grape tomatoes
1/4 onion
1 bunch cilantro
3 fresh jalapeno peppers
5-6 limes
1 tsp. olive oil
1 avocado
Salt & pepper
Remove the tails and chop the shrimp. Cut up the raw fish into small bite-sized pieces. Put shrimp and fish in a large bowl. Halve the tomatoes and add them to the bowl. Finely chop the onion and add it to the bowl (G said red onion but I only had white; either is probably fine). Remove the leaves from a decent-sized handful of cilantro and chop them; add to bowl. Chop the jalapenos (the easiest way to do this is to slice off the stem then cut the pepper lengthwise, peel out the inner pulp and seeds, really trying to refrain from touching your eyes or lips while doing so, then cut into a small dice, something like this: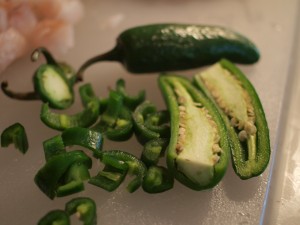 Add the jalapenos to the bowl and then cut the limes in half. Squeeze the limes (I used 5) into the bowl; juice should be covering the fish. Stir everything up really well and season with a few drops of olive oil and salt & pepper. I added the avocado right before serving so it wouldn't get mushy. The fish "cooks" almost instantaneously, turning opaque.
Serve with thick, crisp corn tortilla chips and really cold cerveza. Now smile and imagine sand between your toes.