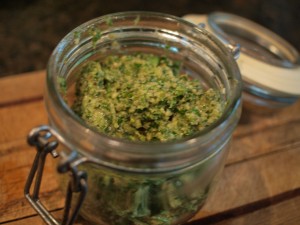 Back in the early nineties, I was a single twenty-something living in a tiny attic apartment. My pantry was the shelf above the half-sized 1940s-era refrigerator, and my dining table was a folding card table from Cost Plus. Most evenings I worked out or went out, and I ate a lot of bagels. Despite all this, I was obsessed with The New Basics Cookbook by Julee Rosso and Sheila Lukins, authors of The Silver Palate. I didn't cook very often back then, but when I did, I always turned to that book. Reading it opened up a whole new world of food and introduced me to "exotic" ingredients like sesame oil, harissa, fennel, and cilantro (I remember searching in vain for salt cod). I learned that you can make soup from just about anything, that "pasta sauce" can be so much more than Marinara and Alfredo, and that real adult dinner parties entailed making hors d'oeuvres such as caviar-filled beggar's purses and beef skewers wrapped in fresh rosemary sprigs. I even obtained a mortar and pestle (much cheaper than a Cuisinart) and made each and every one of the book's many pesto recipes.
Today, just opening my well-tattered 1989 copy of The New Basics takes me back to that tiny kitchen where I often attempted overly ambitious dishes — like Grand Gaucho Paella, which features rabbit, shrimp, and lobster, all prepared separately — for my cute new boyfriend. The boyfriend is now my husband. My dinner parties still don't include caviar, but a few of the recipes and ideas in that book — potted mushrooms, tarragon chicken salad, pasta sauce Raphael, gremolata, bruschetta — are still some of my all-time favorites that I go back to again and again. (The potted mushrooms are pretty labor intensive, but they totally worth it; I skip the shiitakes and use all white mushrooms.)
As I've become more confident and experienced in the kitchen, I've developed my own, more streamlined versions of many of the original recipes, including the Cilantro Pesto. This is really different and delicious, especially this time of year. I love it on cold grilled chicken, fish tacos, added to vinaigrette, or stirred into guacamole that I then eat on the back patio (wow, not only do I have a full-sized fridge, but I have a patio!). My version is a bit simpler to make than Julee and Sheila's (just toss the whole stalks in there, no need to pull the leaves off), and I swapped lime juice for the lemon they called for and added some nuts for richness. Otherwise, I think this is about as perfect a "new basic" as you can get.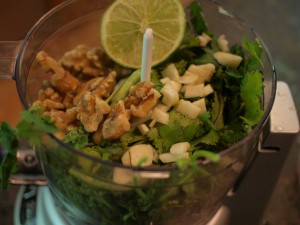 Cilantro Pesto with Lime
Ingredients
1 bunch cilantro (or a half a bunch if, say, you bought the cilantro for something else — ceviche — and have a lot left over…)
2-3 garlic cloves, chopped
Juice of one small lime
1/4 cup shelled walnuts
3 tbs. extra virgin olive oil
Pinch of salt & fresh ground pepper
Chop the last inch or two off the ends of the cilantro stems. Place the cilantro in the bowl of a food processor (yes, the adult me uses a Cuisinart). Add the garlic, lime juice, and walnuts. While you're processing the pesto, slowly add the olive oil through the chute. Check the taste and add salt & pepper. This will keep for a day or two in an airtight jar or you can freeze it.