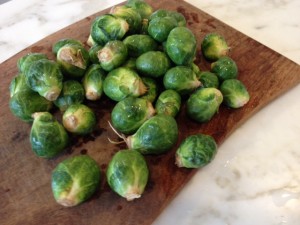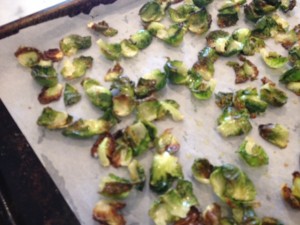 As with most things I do in the kitchen (and elsewhere), I roast Brussels sprouts in the simplest way possible: I trim then ends, cut the sprouts in half, toss them in a roasting pan with a little oil and salt, and slide them into a hot oven for about 30 minutes. I've never known you're supposed to remove the tough outer leaves before cooking them — and I'm really glad I didn't because honestly those leaves, when they get all browned and crispy, are the best part of the whole thing. I always pick them out and have them as a little treat for myself before I serve the Brussels sprouts to the rest of the family. (I love Brussels sprouts, by the way. If you avoid them because you have bad sensory memories of eating smelly boiled ones as a kid, try roasting them instead; it's a totally different — and delicious — thing, I promise. Plus, they are really good for you, and I don't know about you, but I'm always looking for more veggie options for my dinner repertoire.)
It never occurred to me — until I opened a new cookbook, Nom Nom Paleo: Food for Humans, and saw the recipe — that I've been making Brussels Sprouts Chips forever and didn't even realize it. The recipe in the book is fairly simple, but it calls for ghee and grated lemon zest, which I don't always have on hand. My version is really and truly simple. Plus, as a bonus your sprouts will be trimmed and all ready to pop in the oven for dinner.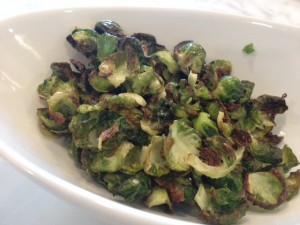 What can I say about these other than they are fantastic and totally addictive? Like the ubiquitous kale chips, this recipe turns a vegetable into something that it's usually not: a crunchy, delicious, salty, and highly satisfying snack. Even the kids kept coming back for more. Yes, that's right, the kids liked something made from Brussels sprouts.
If you're like me and have been making these all along without knowing it, all you really need to do here is cook the leaves on a separate baking sheet — oh, and maybe share… If you are one of those learned people who discards the outer leaves of Brussels sprouts, try doing this with them instead of composting them. If you're a Brussels sprouts hater, you've got to make these. You just might be converted.
Brussels Sprouts Chips
Ingredients
1 bunch Brussels sprouts
1 tbs. olive oil
Pinch of salt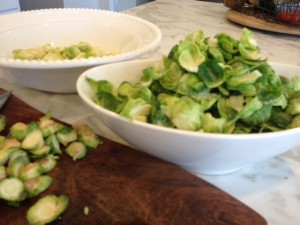 Preheat the oven to 350 degrees. Start by getting out a cutting board, a bowl, and a lidded storage container. Trim the ends off the Brussels sprouts and then remove the darker-green outer leaves; some will fall off when you cut the ends, some you might need to pull off. Put the leaves in one bowl; cut the remaining sprouts in half or quarters and put them in the lidded container. When you're done, put the container of trimmed sprouts in the fridge for later use.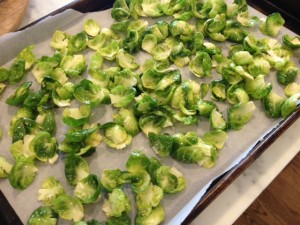 Toss the leaves with the oil and salt (go easy on the salt; it's easy to get too much) and spread them in a single later on a baking sheet lined with parchment paper (you might need to do this in two batches). Bake for 10 mins. and check to see if they're done to your liking. They should be somewhat crispy and brown on the edges. If not, rotate the pan and bake another 3-5 mins., watching closely so they don't burn. When they're done, lift the parchment with two hands and use it as a spout to pour the delicate chips into a bowl.
Now, try to eat just one.