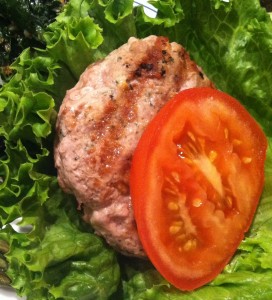 There's something about eating a hamburger with a knife and fork that's just wrong. Not that I haven't done it. Plenty of times. I've even stopped so low as to ask for utensils in a dive-bar-slash-greasy-spoon in McCallister, Montana. Now that I think of it, I'm lucky they didn't toss me and my hippie sandals out onto the highway.
Okay, eating burgers without a bun might seem reprehensible to some, but I get the desire to not eat all that bread. For some of us, it's a calorie thing (i.e. the bun probably doubles the calorie count for an average burger); for others it's a health thing (wheat allergies, Celiac disease, etc.). And then there's my son, who just doesn't like bread. Whatever.
The idea for wrapping burgers in lettuce came from my neighbor, although she didn't know it. Before taking off on vacation, she brought me some produce that was going to go bad while they were away. It included a container of green leaf lettuce leaves, which it dawned on me would make perfect burger wraps. The result was surprisingly satisfying yet obviously much lighter and healthier than regular burgers with buns. And no tedious (and potentially embarrassing) cutlery required.
Lettuce-Wrapped Chicken Burgers
This recipe works with ground beef, lamb, or turkey, but I tried a chicken burger recently and am now a bit obsessed. If your grocery store doesn't sell ground chicken, the butcher can easily grind some boneless-skinless breast meat for you. Or you can do it yourself in a food processor; just cube the meat and pulse a few times until ground.
Ingredients
1 lb. ground chicken (In light of recent news about antibiotics in poultry, I'd stick with organic, whether you're using chicken or turkey.)
1 tsp. garlic powder
1/4 cup finely chopped fresh parsley (or about 1 tbs. dried parsley)
1 tsp. dried oregano
Salt & pepper
Green leaf lettuce leaves, 1-2 per person (lettuce is on the Dirty Dozen so buy organic if possible)
1 fresh tomato, sliced
1 small red or white onion, sliced (optional)
Ketchup, mustard, mayo, Sriracha, and/or whatever you like on your burger
Mix the ground meat with the garlic, parsley, oregano, and salt & pepper (use your hands to mix). Divide into fourths or eighths and shape into about 1/2-inch-thick patties. Use your thumb to make a slight depression in the middle of each patty. Heat your grill to medium and coat with a little oil. If cooking indoors, lightly oil a large skillet or grill pan and heat over medium-high heat. Cook the burgers until cooked through and lightly browned, about 5-6 mins. per side (the temp. should read 165 and the meat should not be pink at all). Divide the lettuce leaves among the plates, and slide the cooked burgers onto them. Dress with desired fixins' and wrap. Eat with your hands.