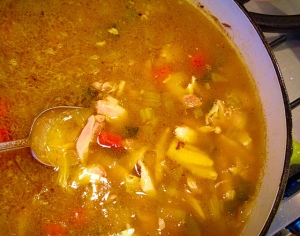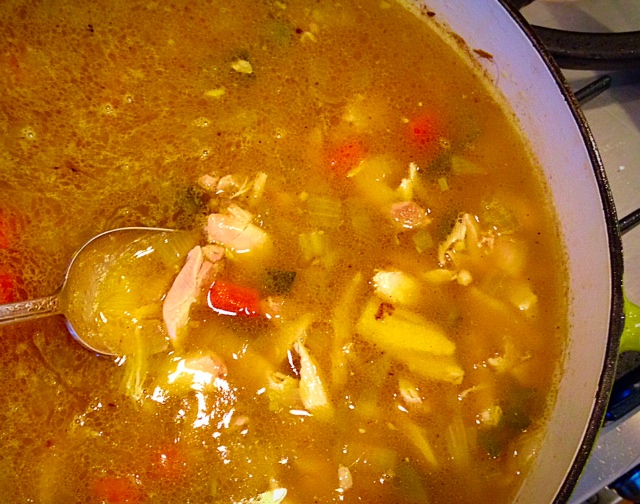 Seeing as how I've made this three times in the last two weeks, it seemed like a good idea to share the recipe. It's actually from Martha Stewart Living, and I happened upon it while flipping through the mag in a waiting room (and no, although I was tempted, I didn't steal the issue; yet another genius use for the iPhone camera).
Although I love Martha, I don't always love her recipes — too many steps — but this just called out to me. It looked fantastic in her artfully styled photo, plus I had everything needed to make it at home (our garden is an embarrassment of chiles). And I loved how it called for something other than flour to thicken it.
With a few minor simplifications, this recipe was really easy. And it's delicious — like a fall soup with a kick, but not full-on chili. If that makes sense. The kids BOTH loved it, which never happens.
This makes a great football-watching meal, and it freezes well, too.
Chicken Chile Stew
Ingredients
3 lbs. chicken thighs (Martha said bone-in, skin-on but I used boneless-skinless and thus got to skip the step of removing and discarding the skin bones.)
Salt & pepper
1 tbs. olive oil (Martha called for safflower oil, but I don't have that in my cupboard.)
3 fresh poblano chiles, seeds removed, chopped (or two fresh poblanos and 1 small can of diced Hatch green chiles, or any combo of green chile items you like)
1/2 onion, diced (Martha called for a whole onion.)
4 cloves garlic, minced
1 tsp. dried oregano (Martha called for chopped fresh oregano.)
1 tbs. chili powder
4 cups low-sodium chicken broth
2 cans (15.5 oz. each) cannellini beans, rinsed and drained (Martha called for three cans.)
Lime wedges and cilantro sprigs, for garnishes (Oops, I forgot those but imagine they would be great.)
Season chicken with salt & pepper. Heat oil in a large, heavy pot over medium-high heat and add half the chicken. Cook, turning once, until both sides are browned, about 10 mins. Transfer to a plate and repeat with remaining chicken. Reduce heat to medium and add chiles, onion, and garlic. Cook, stirring occasionally and scraping browned bits from the bottom of the pot, until onion is softened and slightly golden, about 5 mins. Stir in oregano and chili powder. Return chicken to the pot along with broth and 2-3 cups of water. Bring to a boil over high heat, then reduce heat to low, cover, and simmer until chicken is cooked through, about 8-10 mins. (use a thermometer to make sure meat registers 165 degrees). Using tongs, transfer chicken to a plate and let cool. Meanwhile, mash half the beans to a paste with a potato masher. Stir mashed beans into the pot with th e remaining whole beans. Increase heat to medium and simmer, uncovered, until liquid has thickened slightly, about 10 mins. Using two forks, pull meat into bite-sized shreds and stir into the stew; simmer about 1 min.