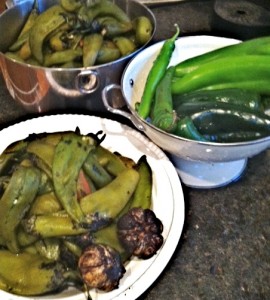 One of the things my husband and I have tried to do as parents is to raise kids who love real food. This is not because we're elitist artisanal food snobs. It is because we love food so much and want to share the pleasure of a delicious meal, the excitement of exotic new flavors, the exposure to where food comes from and why it matters, and the fun of cooking and creating in the kitchen with our kids. We believe all those things are very important and will make their lives better, can, in fact, make anyone's life better.
It's because of this—and our great weakness for all things spicy—that I can justify devoting an entire Sunday to chile peppers. It's educational to head across town to the Mexican supermarket in search of the exact variety of dried guajillos called for in a green chili recipe (and while we're there, pick up some arrachera, Mexican Cokes, house-made tortillas, and lime-salted peanuts). And visiting the Hatch chile roaster's place is kind of like a trip to the pumpkin patch for my kids—an annual fall tradition. Then we get home and spend hours wearing rubber gloves and peeling the bushels of roasted chiles while the smell fills our house, our eyes water, and we moan about the heat. Oh, the things we do for love.
I could probably write 10 posts about our family's chile-related adventures. (And that green chile recipe I mentioned is truly something special, although not as authentic as some and quite a long process to make. There went another entire Sunday, oh well.) My husband grows several varieties of incredibly hot chile peppers in our backyard, and he has a little obsession with creating the ultimate hot sauce—something so hot that our neighbor who eats whole habaneros without blinking can't handle it. So far he has not succeeded. But in the meantime, he's perfected a method of making delicious condiments.
My version is a riff on his recipe. It's hot but not painfully so, and it's incredibly delicious and easy to make. I added a couple mild poblanos and garlic to cut the heat, and you can add more or less of anything to customize it to your tastes. This thick sauce makes a great dip for chips or salsa for fajitas or tacos. It's also a tasty addition to soups, eggs, enchiladas, and rice dishes. Once you get the basic method down, you can experiment with different flavorings and additions. My son—whose heat tolerance is giving the neighbor a run for her money—made a version using an entire bag of frozen mango and ground dried achiote chiles, and it was pretty good!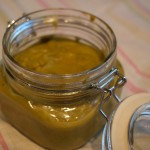 New Mexico Green Chile Salsa
Ingredients
2 fresh poblano peppers
2 fresh serrano peppers
1-2 fresh japapenos
2-3 fresh New Mexico green chiles (The famous Hatch chiles come in mild, medium, hot, and extremely hot varieties; I used 1 medium and 2 hot.)
1/2 pint organic cherry or grape tomatoes ( get the yellow ones if you can.)
1 garlic bulb
Olive oil
White wine vinegar
1 tsp. sugar
Salt
Preheat oven to 425 degrees. Using gloves, remove the stems from the peppers and slice them open to remove most of the seeds. Arrange on a large baking sheet with the tomatoes and garlic bulb (cut in half). Drizzle with olive oil (about 2 tbsp.), vinegar (1 tsp.), sugar, and a pinch of salt. Roast for 20-25 minutes, then put under the broiler for about 3 minutes. The skin of the chiles should be slightly charred but not black.
Dump everything, including the juices from the roasting pan, into a large blender or food processor (pop the garlic cloves out of the skins; this should be easy now that they're roasted) and puree into a smooth, thick sauce. Taste and add a splash more vinegar and salt if needed. Store in a jar.
My new class, Stress-Free Weeknight Meals, has been so popular, I've added another date: Monday, Oct. 29! Chick here for details.