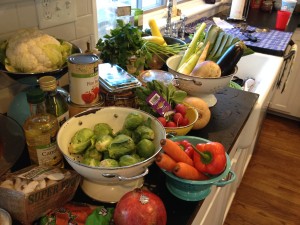 Hello and welcome to 2017! Yes, I know it's February 15. I have been meaning to post, I really have. But I've been super busy with other (paid) work, which tends to get in the way of blogging. And this post is not the fun new recipe you've been waiting for either. I just wanted to let my subscribers know that I am changing the way I do my cooking classes and tell you about my updated class offerings. But! I promise a new (and dare I say life-changing) recipe post is coming next week!
Going forward, instead of scheduling classes when it's convenient for me and hoping the date and time work for you, I'm going to offer them when you can come (what a concept). All you have to do is peruse the list of class offerings below, grab a couple friends, and let me know a couple dates that work for your group. If you don't have a group, don't worry — just let me know you're interested in a class and I will play matchmaker.
The best news of all: The cost of my classes will go down because of this new system! Prices will vary depending on the specific class menu and number of participants, but all will be below the current $160 per class.
Cooking classes are a fun way to connect with friends and meet new ones, enjoy a morning or evening out of the house and away from your desk, or celebrate a special event. They are great for moms groups, birthdays, book clubs, church groups, supper clubs, teenagers leaving for college, etc. Plus, of course you will learn something and get inspired to try new foods and recipes!
Here's a current list of Real Life Delicious class offerings. I do most of my classes at my home in the Bonnie Brae neighborhood in Denver, but I am happy to come to your home or other location if that's more convenient (or fun) for your group. Most classes are approximately two hours long, including eating time.
The focus of all my classes is on delicious ways to incorporate more real food into your family's diet and eat better without driving yourself or anyone else crazy.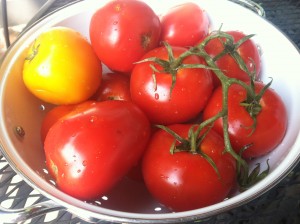 Signature Classes (menus change seasonally):
Real Life ReBoot: Reboot your family's eating habits with delicious, real food recipes for fresh and seasonal family meals and get a whole new take on what truly is a "healthy" diet.
Real Life Re-Stock: The ingredients for a healthy life; how to plan, shop for, and store the foods you need to create healthy, delicious meals from real food.
Paleo & Gluten-Free Family Food (I & II): No wheat? No grains? No dairy? No sugar? No problem. There are two versions of this class (I & II), but you do not need to take them in order.
Stress-Free Weeknight Meals: Strategies and easy recipes for making (homemade) family dinner a reality, even on crazy-busy weeknights.
Favorites from True Foods Kitchen: Delicious, family-friendly "copycat" recipes from everyone's favorite healthy restaurant. (My most popular class ever!)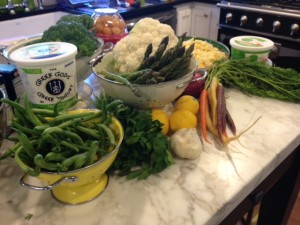 Love Your Vegetables: This all-veg class isn't necessarily for vegetarians. Learn to transform these beauties into incredible mains and sides your family will gobble up.
Back-to-Basics: Everything your mom never taught you but you're too embarrassed to ask. We'll dive into basic but crucial cooking topics such as how to cut things, how to braise, and what's a favor profile? (This is a great class for teens.)
Specialty Classes:
Spring Cleaning: The healthy, lighter recipes you need for "righting the ship" after a long winter of heavy comfort foods — and uncomfortable pants.
Warm-Weather Favorites: This class is all about colorful and lighter fare that is perfect for summer entertaining and al fresco family meals.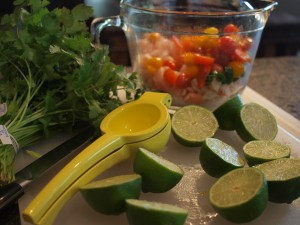 Baja Beach Fare: Fresh and healthy foods that will transport you to my favorite vacation spot.  

Flavorful Fall: We'll take advantage of the awesomeness of autumn by roasting seasonal vegetables and stirring them into savory soups, creating the world's healthiest pasta dish, and more.
Festive & Fresh Holiday Food: Some healthier options for your December meal repertoire, including dishes that are perfect for entertaining.
Mangiamo! Healthy & Easy Italian Favorites: Not your grandma's spaghetti & meatballs, this class includes fresh and delicious updates on classic Italian dishes.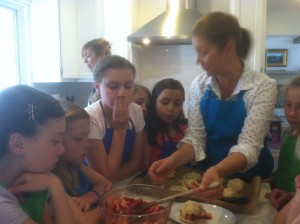 Classes for Kids & Teens:
I offer any of the above classes for kids and teens, and they are always welcome to join their parents for a class. I also offer custom menus for all-kids' classes and birthday parties based on likes and dislikes, so just let me know!
Finally, if you're interested in a topic that's not on this list (Vegan, Asian Fusion, Cooking with Fresh Herbs, Over-the-Top Gourmet French, Gastro Pub Fare anyone?), let me know. I'm happy to create a unique class just for you!