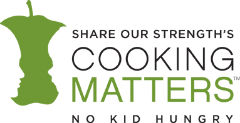 In the midst of all the holiday food drives and general talk about the dismal economy, here I am writing and teaching classes about how we all should be eating organic vegetables and pastured eggs. I realize that for the 45 million people in this country who rely on food stamps and the one out of five children in Colorado who are at risk for malnutrition, this might be a little annoying. But for those of us who do have a choice, I truly believe that choosing to eat better food not only helps ourselves and our families, but it can help make the world a better, healthier place for everyone.
Still, I think it's important to remember that many, many of us don't have a choice. Those hunger statistics are incredible, aren't they? And the more I've learned about this stuff, what has really struck me is that the epidemic of hunger goes hand in hand with the epidemic of obesity. I recently attended an event where the keynote speakers — Bill Shore, founder and executive director of Share Our Strength, and Angela Glover Blackwell, founder and CEO of PolicyLink — explored some of the reasons for this seeming paradox, which, when you think about it, actually makes perfect sense.
Hunger and obesity are opposite sides of the same coin, according to Blackwell. People who are trying to stretch their dollars end up buying food that's not healthy, often because the only choices that are available — in their neighborhood or along their bus route — are not healthy. So, often people are not actually hungry because of a lack of food, but because they lack access to nutritious food. Cooking a fresh family meal can be daunting to anyone, but just imagine if the local market was a convenience store, you held down several jobs, had no child care, and you didn't own a car… The root cause and larger issue here, of course, is poverty — and the vicious cycle it creates — and the solutions need to be sustainable and pragmatic. Or that's what I think, at least.
I'm not writing this to make anyone feel guilty about the heritage-breed organic turkey they just bought for Thanksgiving. In fact, the $5.99 per pound spent on one of those is beneficial to small local farms. As much as I think my grocery-shopping choices can and will change the world, they might not do it quickly enough for the people who are hungry right now. So I wanted to share some information on two amazing organizations that are battling hunger and malnutrition every day be going far beyond giving away boxes of processed food. I encourage anyone to learn more about them and maybe even get involved.
Cooking Matters is a program of Share Our Strength that helps families help themselves by teaching them how to prepare healthy, low-cost meals. These educational programs show people how to maximize their nutrition on a limited budget, and they also help bring families together and learn the satisfaction that can come from preparing and sharing a nutritious meal. Volunteers at Cooking Matters can help with classes, shop for groceries, and provide child care.

FoodWorks is a Denver-based food mission that distributes fresh produce and perishables daily to hunger-relief agencies, serving 75,000 people per week. It also operates a cannery to provide high-quality products with longer shelf life. FoodWorks believes in providing "food with dignity," which means all food is sorted and checked for quality and freshness, and many of its workers are members of its Hands On vocational-training program. There are many ways to get involved with FoodWorks, one of the best may be to participate in one of its fall gleaning days, where adults and kids can harvest fresh vegetables at local farms for distribution to the hungry. This can be an amazing experience for kids, especially if they're a little fuzzy on where their food comes from.
Becoming involved with these organizations has been a blessing for me in many ways. But nothing compared to the blessings they provide to so many who really need them. Real food shouldn't be just for people who shop at Whole Foods.