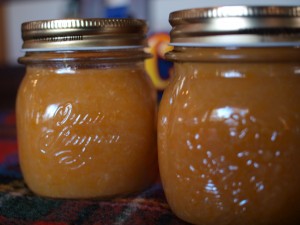 Sometimes I wonder how we ever survived the winter, let alone the holiday season, before some very smart person started selling California clementines by the crate. I love that Cuties are (usually) seedless, portable, tasty, and especially that they're good for you. When my kids come out of school — basically one big Christmas party these days — with sticky fingers and faces from yet another "special treat" ("Mom, we had candy canes and donuts today!"), you can guess what we're having for snack! Plus the Cuties help keep me out of the toffee, spiced nuts, peppermint bark, cranberry bread, and other recent house invaders.
So when I was deciding what to make this year for holiday hostess gifts, I ditched my original plan of Berry Balsamic Jam (Too summery, right? Most of the berries are pretty pitiful these days.) in favor of something more seasonal like…Cutie Marmalade! Basically this is just orange marmalade using clementines instead of oranges. I added a couple lemons so it wouldn't be too sweet, and, I must say, it's delicious — and such a beautiful color, too. I plan to serve this marmalade with scones on Christmas morning, and my husband made an experimental sauce for duck breasts with it last night that was outstanding. It's delish on toasted cranberry bread too…
The only thing that was even remotely hard about this recipe was peeling all those Cuties (Good thing they're so easy — and kind of fun — to peel; as we all know, even kids can do it!) and lemons (a little more challenging; use a knife to get them started). Also, there is one tedious step, which I hope won't turn you off from this recipe: I read somewhere that lemon seeds contain a lot of pectin (the stuff that makes fruit turn to gel), and since I didn't want to be fishing seeds out of my marmalade, I made a little satchel from an emptied-out teabag for the seeds to simmer in. It only took about 90 seconds. Really.

Clementine Marmalade
Ingredients
24-30 Cuties or other fresh clementines/mandarins
3 lemons
4 cups sugar
8 cups water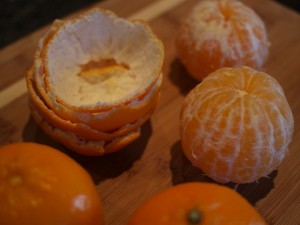 First peel the Cuties, reserving the peel from about four of them (wash those four first!). Set the peel aside and cut the Cuties, first in half, then quarter the halves. Put the orange pieces in a large pot (not aluminum as it could react with the citrus; I used the enameled cast iron Dutch oven that I use for just about everything).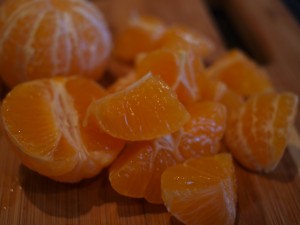 Peel two of the lemons. Cut them as you did the clementines and remove all the seeds (I cut them into smaller bits in order to get at all the seeds). Add the lemon pieces to the pot. Dice the reserved clementine peel into small (1/2-inch) pieces and add to pot. Add water and turn on the stove.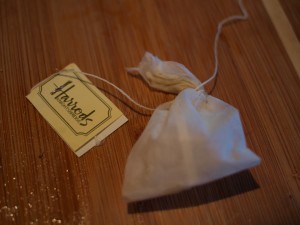 While the fruit and water is heating up, empty the tea from an unused teabag and fill it with the lemon seeds. Use the string to tie it tightly and drop it into the pot. Bring to a boil and cook for 25 minutes. Then add the sugar and juice of remaining lemon, and stir.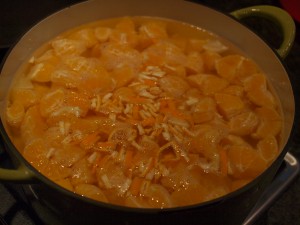 Continue boiling for about one hour, stirring occasionally. The marmalade should start to thicken, but remember it will gel more when it cools. I used an immersion blender while the fruit was still cooking to make it somewhat smoother, but it's not completely necessary because the fruit breaks down a lot during an hour-plus of boiling. While it's still hot, transfer to small (5 oz.) jars. Makes eight jars.