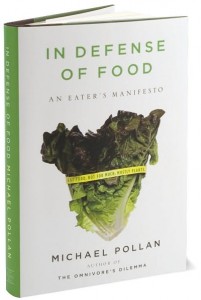 When I told my friends I was going to see Michael Pollan at the Paramount Theater last week, one of them asked if he was the lead singer for the Killers and another said that seemed like an odd venue for a book signing. I agree it was a bit random to pay money for tickets for what is essentially a stop on a writer's promotional tour — a writer who is not JK Rowling! — but Michael Pollan is a rock star to some of us. The audience was largely made up of sustainable-food advocates, local urban farmers, and other like-minded hippies — I mean foodies; all the plaid and Patagonia was a dead giveaway. Okay, I admit it, to me it was like seeing Franti.
Pollan talked about confronting our meat-eating, the ubiquity of high fructose corn syrup, and real-world costs of cheap, processed food. But what I found most compelling — and comforting — was his discussion of the value of cooking, especially when trying to instill in kids an appreciation for real and healthy food. He emphasized making time to cook and how enriching it is on so many levels. Plus, it was frankly great to hear that Michael Pollan's son was a "challenging eater" and that the family had to bring the kid's favorite brand of white pasta everywhere they went in order to mitigate tantrums. "All parents know that 'mood management' is an important part of child rearing," Pollan said. Amen to that, right?
Pollan's advice to parents:
1) Have a garden. As Pollan said, to kids the excitement of harvesting is like Christmas. It's amazing what kids will eat when they grow it and pick it themselves. (Full disclosure: We currently don't have a garden; we did, but our neighbors put up a new fence, blocking our little patch of sun. But we do grow chilies, tomatoes, strawberries, and herbs in pots.)
2) Involve kids in cooking. As with gardening, it's amazing what a picky seven-year-old will eat when she helps to make it. Pollan explained that food can be scary to kids, whose taste buds are more sensitive than adults'. So the more they know about where their food comes from and how it's prepared, the better. "Cooking is a really valuable thing to do," Pollan said."And the secret is, it's really not that hard." Hmmm, sounds familiar…
At the end of the program, when asked what he would choose if he could only eat one food for the rest of his life, he thought about it and said, "Roast chicken. Slooowly roasted chicken." Now there's a man after my own heart!
Since it sounds so incredibly good right now, here's my favorite method for roasting a chicken.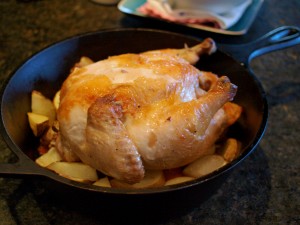 Simple Roast Chicken
Ingredients
1 chicken (you'll feel better about it if it's organic and humanely raised; 3-4 lbs.)
1/2 garlic bulb
4-6 fresh thyme sprigs
1 lemon
1 medium onion, quartered
6 medium carrots, peeled and cut into bite-size pieces
6-8 small new potatoes
1/4 cup olive oil
2 tbs. butter
salt & pepper
Preheat the oven to 450 degrees. Rinse the chicken and pat dry. Rub it  inside and out with salt & pepper. Slice the lemon and garlic bulb in half (don't worry about peeling the garlic) and put one half of each plus a couple thyme sprigs inside the cavity and tie the legs together with kitchen string. Place the veggies in a large cast iron skillet (or roasting pan). Add about half the olive oil and some salt & pepper and mix to coat. Toss in the remaining thyme and (unpeeled) garlic cloves. Rub the chicken with the remaining oil and place on top of the veggies. Spread a little butter over the breasts and then roast in hot oven for about 25 minutes. Turn the oven down to 400 degrees and roast for another 45 minutes (until thigh reads 160 degrees or juices run clear, not red). Remove from oven, transfer chicken to a cutting board, and tent with foil to rest for about 15 minutes. If they need it, you can cook the vegetables a bit more or at least keep them warm in the oven. Stir them with the cooking juices before serving with the bird.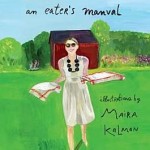 In case you're in the "who is he?" camp (totally understandable), Michael Pollan is the author of the book that changed my life as well as In Defense of Food: An Eater's Manifesto, which was also a total revelation. His most recent book, Food Rules: An Eater's Manual, has been reissued with new illustrations. Like all of his books, it's totally worth reading — and doing so is even quicker than roasting a chicken.