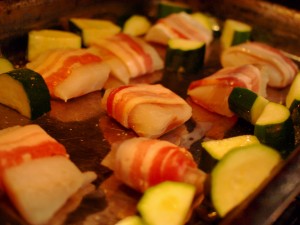 I had a fantastic group of women here for class last week. They came with many different food concerns, from how to make family dinners less stressful when everyone is so busy to whether or not we all should be buying organic chickens. If there was one common theme among all of them, it was feeding picky eaters — specifically how to get their kids, and in come cases husbands, to eat fish without cajoling, enduring whining, or ending up with a huge platter of uneaten (and very expensive) Dover sole.
We all know that eating fish is good for us. Fish makes a healthy, light, quick, omega 3-rich dinner. I think most fish is best when it's prepared simply — just squeeze a little lemon and olive oil over it and toss it onto the grill or skillet, but if your family won't eat it, I suggest cheating a little — and what could be a better way to cheat than with bacon?
This is what I refer to in my classes as a "bridge food." The idea being that this food is practically guaranteed to move your picky family members beyond saying, "Ew, gross!" whenever (insert dreaded food of choice) is served for dinner. Once they decide they actually like (formerly dreaded food of choice), you can forgo the bacon. Or not. I gotta say, this is just plain delicious. I know, shocker. Talk about an unfair advantage…
You can use any firm white fish for this. I've tried it with halibut and cod, and liked both equally well. Since cod is the less expensive of the two, I guess I'd go with the cod. (Wild caught though, please; if you're not sure this is important, start reading some of the info here; and then you can also download one of the Monterrey Bay Aquarium's pocket guides to safe and sustainable seafood.) Cod is super easy to deal with and very mild tasting. Throw some veggies into the roasting pan while you're at it, and you will feel like a dinner genius. Not only will your family be eating fish and — bonus! — perfectly roasted vegetables for dinner, but the entire meal will require about 5 minutes of work.
Bacon-Wrapped Fish & Vegetables
Ingredients
Cod (or halibut) fillets, about ½ pound per person
Bacon (this doesn't have to be fancy, thick-cut, or applewood smoked — just make sure it's nitrate free)
Salt & pepper
Vegetables (Almost any vegetable tastes great roasted in the oven; I suggest onion slices, chunks of zucchini, mushrooms, or blanched broccoli, carrots, or cauliflower — toss with a little olive oil first.)
Preheat the oven to 475 degrees. Cut the fish into nugget-sized pieces (about 1" x 2"). Lightly sprinkle the fish with salt & pepper. Wrap about ½ strip of bacon around each piece and place in a large roasting pan or casserole dish with the ends of the bacon tucked under the fish. Fill the remaining space on your roasting pan with the veggies, but don't crowd the pan too much. Bake for 15-20 minutes until the fish is flaky and the bacon is browned but not crispy.
In class we served this over a bed of greens lightly dressed in this orange vinaigrette. It was delicious. How could it be anything but, right?