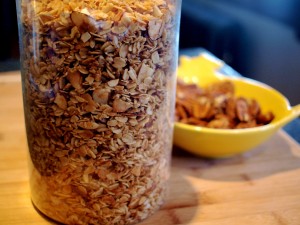 The beginning of January is pretty brutal, huh? I mean, here we are, cookie-less and booze deprived, trying to remind ourselves that we really meant it last week, when — in the midst to helping ourselves to as much wine and frosted sugar cookies as it is humanly possible to consume — we said we were really looking forward to "a fresh start," "drying out," and "eating nothing but vegetables for a very long time."
Actually, I like the idea of New Year's Resolutions. Sure, they are almost pathologically optimistic, but I am one of those irrational people who has enormous faith in my awesome, on-top-of-it, and amazingly strong-willed future self. While some of my resolutions from last year (lose 10 pounds, do yoga twice a week) did not pan out, a few of them (meal planning, sticking to "office hours") did. So, all in all worth doing, I think.
But, when it comes the annual clean-living resolution (which is actually less a resolution than a necessity), I can't go the hardcore route. I mean, it's one thing to not have a drink for weeks on end, but I can't live on clear broth and steamed chard. It's redemptive enough to be in gym clothes and eating something besides leftover puff pastry for breakfast, isn't it?
Just being back in the kitchen (for something other than making coconut eggnog or grabbing a handful of candied walnuts) and cooking "regular" meals for my family feels like clean living to me — even if I did put a splash of dry sherry in the pan with my chicken breasts last night — but I am committed to making and eating some lighter meals. The plan for this week included a large batch of this, one of my favorite vegetarian dishes, and this, a tasty and satisfying building block for family dinners. Both also make great, relatively virtuous lunches. My box of organic produce came yesterday after a vacation hiatus, and I've been madly peeling carrots, spinning lettuce, and otherwise prepping the veggie-based diet for my incredibly healthy future family.

And I'm also making granola. I know, you're probably thinking, Wha?? Granola is so fattening! Well sure, this granola does have some fat in it, but since it's made with extra virgin olive oil, it's the kind of fat (monounsaturated) that's good for you. Most granola recipes out there call for trip-to-the-store ingredients like powdered milk and wheat germ, but this requires nothing more than some rolled oats, whatever nuts you like, and maple syrup — hopefully things you have on hand. I like that I can control the amount of sugar — and everything else — that goes in it. Plus, while it's baking, my house smells incredibly delicious — almost like sugar cookies.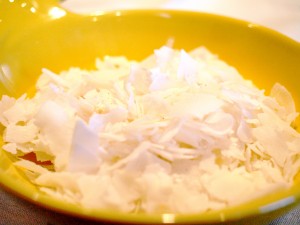 Homemade Granola with Olive Oil
Ingredients
5 cups rolled oats
1 cup chopped pecans (raw, unsalted)
1 cup sliced almonds (raw, unsalted)
1 cup organic coconut flakes (unsweetened)
1/2 cup pure maple syrup (If it doesn't say "pure" on the bottle, it's probably not; i.e. Log Cabin contains exactly zero maple syrup.)
3/4 cup extra virgin olive oil
A hefty pinch of kosher salt
Spices — I used a sprinkle each of cinnamon and ginger, but not necessary.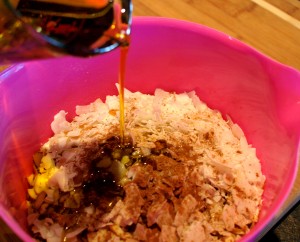 Preheat oven to 300 degrees. Combine all the ingredients in a large bowl. Stir well with a wooden spoon. Spread the mixture on your largest rimmed baking sheet (it will be a pretty thick layer) and bake for about 1 hour, stirring every 10-15 minutes, until the granola is toasty and slightly browned. Toward the end of the cooking time, you might want to check it every 5 minutes as it's easy to burn. When I thought mine was done, I took it out of the oven and let it partially cool before turning the oven off. The granola gets crunchier as it cools; if it's still not crunchy after cooling, stick it back in the oven for about 5 minutes.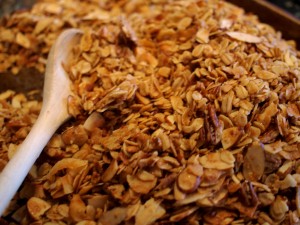 Store in a airtight container. This is delicious (and good for you) sprinkled over peanut-buttered apple halves or organic plain Greek yogurt.