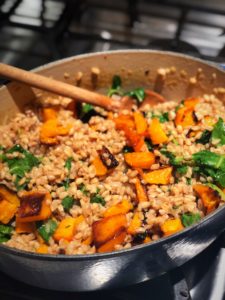 Every once in a while I torture myself by going back and reading old posts on this blog. It's not that I'm not proud of the writing (for the most part, I am) or the photography (okay never been my strong suit), but geez did I make some ridiculous suggestions. There was that time I blogged about a chicken soup that takes four hours to make, including making a homemade persillade. Or how about when I suggested you man your oven for six hours drying fruit for homemade snacks? But the one that really has me wincing is my post about farro risotto. While I still love that recipe and do feel that standing by a stove "stirring and tasting" is pretty enjoyable, the truth is — and, hello! you already knew this — I don't really have an hour to devote to doing that, enjoyable or not.
Which is why that recipe has kinda languished in my archives, even though my love for chewy-yet-creamy "farrotto" has never waned. I guess I was too busy to notice how much I missed it.
Recently a friend requested farro risotto for a cooking class I was doing, which provided a good excuse to mess around with the recipe and try to simplify it. I started off by reading the farro package instructions, which said to boil the grains for 15 minutes.
Wait, what?
Why didn't I think of that?
Once I cooked the grains, it was a simple matter of sautéing some veggies and stirring in a bit of liquid, and voila. This may not be traditional risotto, but do I care? No, I do not. It's fantastic. This version tastes like all my cosy fall fantasies, with butternut squash and sage. I threw in some kale because I can't resist throwing greens into everything I make. Add a salad and you've got a beautiful, easy dinner that's worthy of company but easy enough for a busy Tuesday.
Farro Risotto with Butternut Squash, Sage, & Kale
Ingredients
2 cups butternut squash, cut into bite-size pieces (Another shortcut that 2011 me would have scoffed at is to buy pre-cut butternut squash, duh)
4 tbs. olive oil
1 tbs. fresh sage leaves, chopped
1 1/2 cups farro
2 shallots, minced
2 garlic cloves, minced
1 thyme sprig (or 1/2 tsp. dried thyme)
1/2 cup white wine (optional)
1 cup vegetable stock (or chicken stock)
3 cups kale leaves (or spinach), roughly chopped
1/2 cup grated parmesan
Salt & pepper
Heat the oven to 425 degrees. Toss the squash with 2 tbs. olive oil and a little salt & pepper. Spread onto a large rimmed baking sheet and roast for 20-25 mins. until soft and nicely browned. In the meantime, bring 1 quart of water to a boil in a pot, stir in the farro, and cook for 15 mins. Scoop out 1 cup of the cooking water and save it before you drain the grains in a fine colander (if you forget to do this like I do about half the time, just plan on using a bit more stock). In a large, heavy pot, heat 2 tbs. oil over medium heat and stir in shallots, garlic, and thyme. Cook for about 3 mins. Add the farro and stir to coat with the oil. Stir in the wine and cook until it loses it's boozy smell and cooks off (this step is optional if you're in a hurry or don't want the temptation of opening a bottle wine on a Tuesday night, however the wine deepens the dish's flavor — and is a good excuse to open a bottle of wine on a Tuesday night). Turn the heat to medium-low and stir in 1/2 cup of the stock and cook until it's almost completely absorbed; repeat with 1/2 cup of the cooking water and again with the remaining 1/2 cup of stock, stirring often but not necessarily continuously. This should take about 15 mins. Add the remaining 1/2 cup of cooking water if needed. The grains should be chewy and distinct, not mushy, and the finished dish should have a small amount of saucy liquid. Stir in the kale and cook until slightly wilted. Fold in the roasted squash. Sprinkle in the chopped sage a little at a time; it is strong so you might use less than 1 tbs. Season with salt, stir in the cheese, and finish with a healthy grind of black pepper.