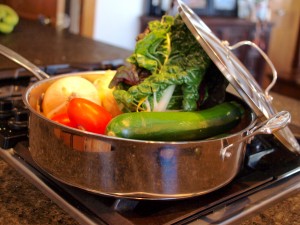 Okay, are we sick of getting up in the dark yet? I don't know about you, but I am. Don't get me wrong, I love winter — especially when I'm skiing powder on a bluebird day — but I have to admit I'm getting sick of being cold, sick of wearing turtlenecks, and sick looking at of my pasty white ankles. If you are in the same boat, let's hope that little Phil doesn't see his shadow tomorrow (or hope he does; I can never remember which signifies the end of winter). Spring skiing is the best anyway, right?
Another thing — besides buy a sunlamp and plan a trip to the beach — we can do to beat the winter blues is, you guessed it…eat right. It turns out seasonal depression (called Seasonal Affective Disorder or SAD) can be partly blamed on the Standard American Diet (which is also SAD) and alleviated by eating more "good mood foods."
So, although you might want to dive into a vat of chili mac or a box of Girl Scout Cookies right about now, the experts suggest limiting refined carbs and sugars (which are staples of the SAD diet) in favor of healthier foods that can improve your mood. Refined carbohydrates (white bread, crackers, white rice, etc.) and sugary "foods" like candy, soda, and cookies cause spikes in blood sugar, which can lead to mood swings and fatigue. On the other hand, high-quality carbs (vegetables, fruit, beans, brown rice, and oats) don't wreak havoc on your blood sugar levels, plus they trigger the release of brain chemicals such as serotonin and dopamine, which can lessen feelings of depression.
In addition to punting the Thin Mints, make sure you're eating lots of these nutrients:
– Lean protein (chicken, fish, eggs): Protein helps slow the absorption of carbs, which can reduce mood swings. Plus, protein releases dopamine, which helps with focus and alertness.
– Omega-3 fatty acids (fish, nuts, flax): There's evidence that omega-3's can cheer you up.
– B Vitamins (that would be even more fish and green, leafy vegetables): B vitamins such as folate can influence your mood by increasing serotonin production in the brain.
– Vitamin D (oranges and milk): Vitamin D may increase levels of serotonin, too, and since we're spending so much time indoors instead of being outside tanning our ankles, we often have a deficit of it this time of year.
Hey, did you ever notice that just about all beneficial diets — whether for weight loss, longevity, fighting cancer and heart disease, or battling depression — are basically the same thing?
Obviously, there are a zillion recipes out there, including many right here on this blog, that incorporate these nutrients. To get you started, may I suggest roasting a chicken? Or a piece of wild salmon? Eat either of those for dinner tonight, then tomorrow make a winter salad using the leftover chicken or fish, whatever veggies you have on hand, some dark leafy greens, a handful of walnuts, and a few orange segments. Then pour this sunny orange vinaigrette over top.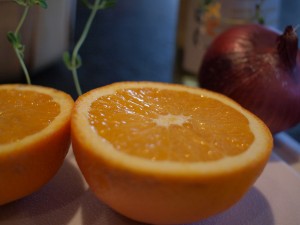 Orange Vinaigrette
Ingredients
3/4 cup extra virgin olive oil
1/4 cup white wine or white balsamic vinegar
1/4 cup orange juice (juice of one large orange)
1 small shallot, finely minced
Pinch of salt and fresh ground pepper
Put all the ingredients in a jar with a tight-fitting lid. Shake well. Be happy.