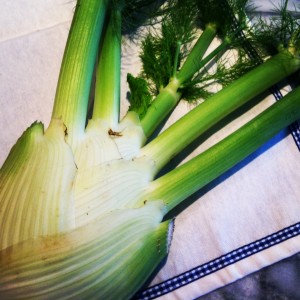 So, this came in my organic box last week. And yes, I know what it is, thank you very much. I do like fennel (even though its licorice taste reminds me of Good & Plenty). But that didn't keep the poor thing from languishing in my veggie basket for almost a week. The problem is that — I guess because it's a strong-tasting bulb — I tend to think of fennel the same way I think of garlic and onions: as a flavoring agent or garnish rather than as a bonafide vegetable. I love it stirred into winter stews and shaved into salads — especially spinach ones with goat cheese. Mmm.
My fennel perspective changed when we had yet another spring snowstorm, which canceled yet another round of soccer and baseball practices and left us home for dinner one night when we really had no right (or plan) to be. Other than some carrots and wilted arugula, fresh veggies were scarce. I've been on a serious vegetable-roasting kick lately, so I decided to roast the fennel and pass it off as a side dish. Fennel is actually an autumn vegetable, which seemed fitting on this un-springlike night. I tossed a few carrots in the pan (safety measure in case the family despised the fennel) and cranked the oven for almost an hour, and you know what? It was delicious. Really, really delicious.
Fennel has a strong anise flavor that was somewhat mellowed and improved by roasting and caramelizing (isn't everything?). And fennel is hearty enough to stand up to high temperatures and remain crisp and crunchy. We ate it with pan-roasted chicken breasts, and everyone wanted more. My only regret is that I didn't have another bulb to roast. If you're going to do this, I highly recommend roasting at least two at a time. You can always toss the leftovers into your next salad.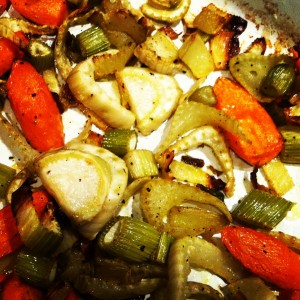 Roasted Fennel & Carrots
Ingredients
1 (0r 2) fennel bulbs, shoots and frilly green leaves removed
3-4 large carrots, peeled
2 tbs. olive oil
Pinch dried thyme
Salt & pepper
Preheat the oven to 450 degrees. Cut the end off the fennel bulb and then slice the entire thing in half lengthwise. Then cut each half into 1/2-inch-thick slices. Cut the carrot into inch-long pieces. Toss vegetables with olive oil, thyme, and salt & pepper in a large casserole or rimmed baking sheet. Roast in the oven for 50 mins., checking and stirring occasionally so vegetables brown evenly. Add more salt & pepper to taste.