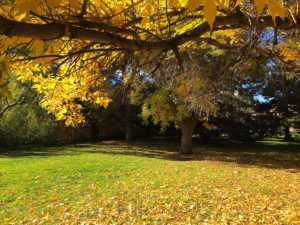 Before I start talking about my new autumn food obsession, I wanted to say a few words about why I think writing about food is important, especially now. Please bear with me; it's only one paragraph and then I'll get to the squash:
With the exception of writing about the food-related issues that fire me up or piss me off, I've tended to avoid politics on this blog. I firmly believe that, while food can be a political issue and what you choose to eat says a lot about your values, eating is something that fundamentally unites us. The ritual of coming together for a meal is, more than anything else, a way to connect. And cooking for people is generous, inclusive, loving, and kind. Now more than ever, I believe sharing a love of food, shopping responsibly, debating the best way to roast a chicken or get kids to eat kale, and enjoying a home-cooked meal with your family and friends can all really make a difference. These things can truly improve our lives, our health, and the world. They are fundamentally important. And they bring comfort and joy and show you care — which I think we all could use right now. 
Regardless of whether you think this is a happy, exciting time or a terrifying one, I encourage you to eat well, cook, share, and say a prayer at the dinner table. 
Okay, got that off my chest. Now, back to the post:
Do you guys ever feel a disconnect between the fantasy version of fall you see in the J Crew catalog (flannels, cozy sweaters) and what the weather is really like? Where I live (Colorado), it's been in the 70s almost every day, and I'm still wearing t-shirts and sandals. It also means the fantasy version of fall cooking (which for me involves stirring big pots of soup) will have to wait a few more weeks. (Then it will snow, and pots of soup will be replaced by batches of cookies in my fantasy.)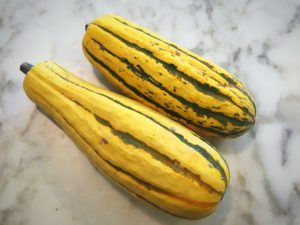 In the meantime, even though my garden is still providing tomatoes, it is fall. Regardless of the weather, autumn is when a magical vegetable starts to appear at the market: Delicata squash. If you're not familiar with delicata squash, you have to try it. It's classified as a winter squash (like acorn and butternut), but it's actually very closely related to summer squash (like zucchini and pattypan). My best description is it's sweet like butternut but you can eat the skin like zucchini. I think it's delicious.
My two favorite ways of preparing delicata squash are roasting it and stuffing it. Because I'm feeling generous and do truly believe in the power of food to change our lives, I'm sharing both recipes today.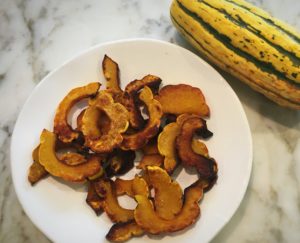 Roasted Delicata Squash (Take it from a girl who loves French fries, this is salty and crispy and makes a great snack.)
Serves 2-4, unless it's me, in which case it serves 1
Ingredients
1 delicata squash, scrubbed
1-2 tbs. olive oil
Salt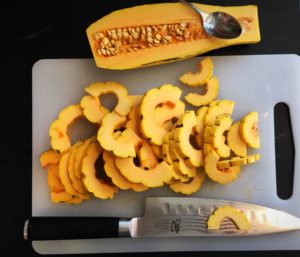 Preheat the oven to 400 degrees. Cut off the rounded ends of the squash and then cut it in half lengthwise. Use a
spoon to scoop out the seeds (you can either discard them or clean and roast them like pumpkin seeds). Cut the squash into 1/3-inch moon-shaped slices and arrange in a single layer on a baking sheet. Try not to have them too crowded; you may need two sheets. Drizzle lightly with oil and sprinkle with salt. Roast for 10 mins. then flip the squash pieces and roast for another 5-10 mins. more until browned but not black. You want them to be cooked through and slightly crisp on the outside; total roasting time should be about 20-25 mins.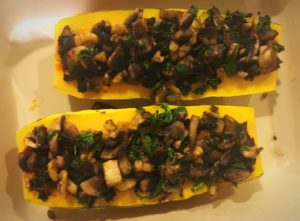 Kale & Mushroom Stuffed Delicata Squash (We had this as a side dish with roast chicken, but it would also make a beautiful vegetarian entree for Thanksgiving.)
Serves 2 as a main, 4 as a side
Ingredients
1 delicata squash, scrubbed
Olive oil
Kosher salt & black pepper
1 small onion, chopped
1 garlic clove, minced
4 oz. fresh mushrooms, chopped
1/2 bunch kale, chopped
1 sprig fresh thyme (or pinch dried)
Chopped parsley for garnish
Preheat the oven to 400 degrees. Cut the squash in half and remove the seeds with a spoon. Lightly coat with oil and sprinkle with salt. Place face down on a large baking sheet. Bake until tender, about 20 mins. Meanwhile, heat 1 tbs. oil in a large skillet. Add the onion and garlic; cook until onion is soft, about 8-10 mins. Add the mushrooms, kale, and thyme to the pan with salt & pepper and cook, stirring, for 5 mins., then cover and cook for another for 2-4 mins., or until the vegetables are well cooked. Divide between the squash and bake for 10 mins.
"

I'm hosting a very merry NEW class on Dec. 7: Festive & Fresh Holiday Food! Would love to have you join us as we make some healthy and delicious recipes perfect for potlucks, special dinners, and family gatherings. Email me to for more details or sign up:

moc.suoiciledefillaer

null

@niveb

"