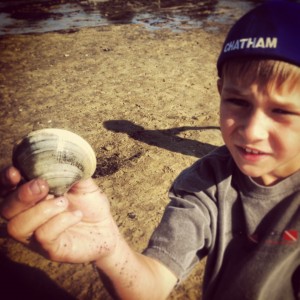 This has been one delicious summer. We had the incredible opportunity to spend a week on the East Coast and then a few days later, to spend a week on the West Coast. It was definitely a traveling (and packing) whirlwind, but it was fantastic And extremely tasty. First, we were in Chatham on Cape Cod, Massachusetts, where we got to introduce our kids to lobster rolls, Cape League baseball games, low tide on the bay, swimming in the oyster ponds, and watching seals from the Lighthouse beach. We ate fried oysters, ice cream, and steamers. We pulled clams out of the sand, and my husband and his brother caught delicious striped bass for dinner. My son discovered New England clam chowder and became mildly obsessed, to the point where he felt he'd tried a fair sampling and considered himself a connoisseur. Which of course made me pretty proud. He now fancies himself quite the clammer and has judged clam chowder — both restaurant versions and homemade — on both coasts.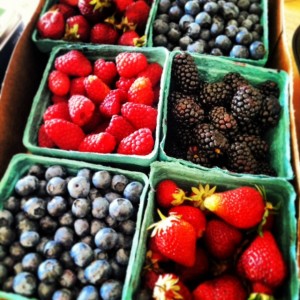 After not really regrouping at home, we flew to Oregon for a week with my side of the family. Wow. I'd heard it was beautiful there, but I was truly unprepared for it to be so breathtaking and remote. We stayed in an area called the Three Capes, and it was one of the most scenic spots I've ever been. We hiked, we flew kites, we bought bushels of fresh berries from one of the world's most gorgeous local markets, we watched crowds of people shoot off huge firework displays on the beach (right behind the "No Fireworks on the Beach" sign), we became mad clammers, using our feet to find the bivalve critters and maxing out our limit almost daily. (It's a total mud-fest, no wonder my kids loved it.) My husband and brother-in-law (a different brother-in-law) went fishing on the rivers and bays, and after not having much luck, they converted the fly rods to crabbing rigs and caught us some Dungeness Crab, which just might be the most delicious thing I've ever put in my mouth.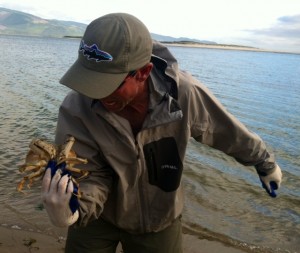 I know the summer isn't over, and I hope you all have many more adventures (food related and otherwise) to look forward to. But I wanted to share a few things I discovered that might be of use to you if you happen to be fortunate enough to have access to a beach house any time soon (or a decent fish market).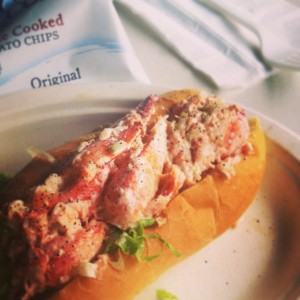 When you're at the beach, eat all the lobster rolls you can. Don't be Paleo or balk at the fact that's it's just lobster salad on a hotdog bun. I know it's a very basic concept and wouldn't be hard to put together, but there's something about having a lobster roll on the deck of a dingy beach shack that adds to the experience much more than any homemade organic mayo could ever do.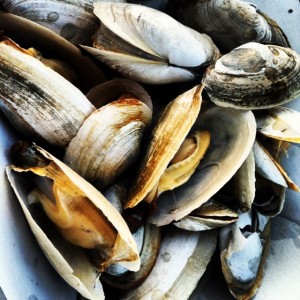 Don't be afraid of Steamers. I am almost ashamed to admit this, but I was freaked out by these before a month ago. All I can say is: Don't look, just eat. But don't forget to rinse.
Try slow-grilling fish. When you have a somewhat delicate white fish like striped bass, put it on a piece of foil, season with olive oil, lemon, chopped garlic, parsley, and salt & pepper, and cook it over low to medium heat on an outdoor grill. It will be a delectable feast. It's also perfect for fish tacos.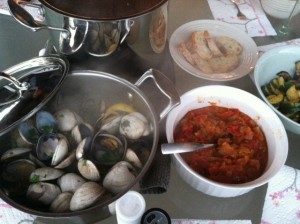 Yes, you can eat "just clams" for dinner. My husband didn't believe it, but we proved him wrong more than once. It helps if you have some grilled vegetables with Summer Tomato Sauce or a nice salad, but neither is absolutely necessary.
Instead of raw oysters, try them grilled. A fisherman in Netarts, Oregon, told us this is the way the locals enjoy oysters (Netarts Bay is home to sweet Olympia oysters), and I can see why. It's brilliant because not only are the oysters delicious this way, but they basically shuck themselves so no risk of self-impailment. All you do is heat the grill them place the oysters in the shell right on the grate until most of them open. Remove the open ones and eat. You can cook the rest a few minutes more until they open, too. Voila.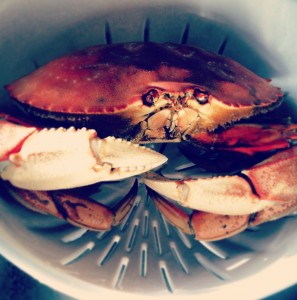 If you ever have access to fresh Dungeness crab, stop what you're doing and eat it.
While bouillabaisse is kind of a process to make, it's worth it if you have fresh seafood, especially fresh clams. I used this recipe, but I simplified it a lot (i.e. no saffron or fish stock).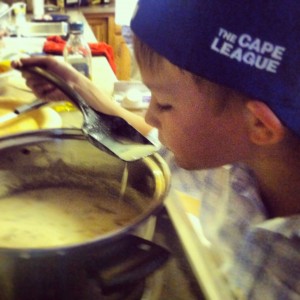 Making homemade clam chowder will impress your family and probably delight your kids. Even my picky daughter had to admit she liked it ("except for the clams"), and it's actually easy. I prefer a lighter, brothy version, but my son (who we started calling Soup Nazi) kept demanding it thicker, thicker, thicker, so we compromised somewhere in the middle. We looked at a lot of online recipes (while standing in the grocery store in Chatham), and many of them call for things like canned soup and tons of heavy cream. We kind of improvised based on a few different versions, and this is what we ended up with. It's great if you have fresh clams. If you are using canned clams, you might want to add a bottle of clam juice, too. Soup Nazi loved it.
Fresh Clam Chowder
Ingredients
4 lbs. Littleneck clams (or if you're on the West Coast, use cockles), about 3 dozen clams, depending on the size
1 tbs. butter
4 oz. chopped bacon
1 cup chopped onion
1 tbs. flour (or more, depending on how thick you want the soup)
1 cup dry white wine
1 lbs. potatoes, diced
1-2 cups water
1 bay leaf
2 sprigs of thyme (or pinch dried thyme)
1/2 tsp. freshly ground black pepper and salt to taste
1 teaspoon Old Bay seasoning (or paprika with a pinch of cayenne)
1/2 cup half & half
1/2 cup milk
2 tbs. chopped fresh parsley
(We had just caught the clams, so first we placed them in buckets of water with cornmeal overnight to get them to expel excess sand. You can skip this step if you buy the clams.) Rinse and scrub the clams. Discard any broken clams or clams that are open and don't close when you touch them. Place the clams in a large pot and add about an inch of water. Cover and bring to a boil. Let the clams steam until they all open up, 5-10 mins. Use a slotted spoon to remove the clams from the pot to a bowl. Strain the remaining clam-steaming liquid through a fine mesh sieve to catch any grit and reserve. You should have 2-3 cups of clam liquid. Separate the clams from the clam shells. Roughly chop the cooked clams. Place the bacon and butter in a large pot or Dutch oven. Heat on medium and brown the bacon. Add the chopped onion to the pan, and cook, stirring occasionally, until the onions are translucent, about 5 mins. Sprinkle flour over the onions and stir until everything is coated with  flour. Let the flour cook for a minute or two. Slowly stir the wine into the pot. Add potatoes and 2-3 cups of the strained clam liquid and a cup of water. The liquid should cover the potatoes. If not, add a little more. Add the bay leaf, thyme, pepper, and Old Bay. Heat to a boil and reduce to a simmer. Cover and cook for 10 mins. or until the potatoes are cooked through. While the potatoes are cooking, heat the half & half and milk in a small saucepan until steamy. When the potatoes are tender, add the chopped clams and turn off the heat of the soup. Slowly stir in the heated cream. Adjust seasonings (it will need salt). Stir in the fresh parsley.
Anyone eat anything incredible this summer? Discover something you'd never tried before? I'd love to hear from you!