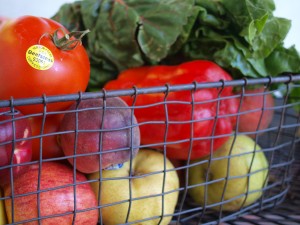 It's been a while, I know. Even though my mantras for the summer were "live in the moment" and "don't over-commit," the days and weeks were still a blur. A tasty blur for sure: We took weekly trips to the farmer's market for local corn, heirloom tomatoes, and nitrate-free sausages (and Cake Bubbles of course); we ate homemade ice cream sundaes with fresh Palisade peaches and chocolate crackle topping; we made "grownup s'mores" on French baguettes; we cooked fresh antelope steaks on a WhisperLite backpacking stove. And we consumed too many tuna melts and Oreo milkshakes at the pool.
Amid all the eating and swimming and camping, we did deal with some un-fun family and health issues that caused a lot of worry and stress. One night, during a particularly rough stretch after circumstances had kept us apart for a while, my family and I sat down to a dinner of personalized homemade pizzas. After we passed our creations around and sampled each others' (at times excessively) creative topping selections, I realized we were all laughing and smiling, and that we had temporarily forgotten about the heavy stuff we'd been dealing with. I sat sat back and thought about how meals like this are not all that unusual, but how they can and should be seen as such a gift. That little moment reinforced what I so strongly believe about food and especially family dinners: Good food brings people together, and that has the power to heal more than just our bodies.
It's relatively easy to make dinner and sit down together when things are going well and we feel organized and energized and on top of things. Except—and I'm sorry to be the one to point this out—we never feel organized and energized and on top of things. Life, at least my life anyway, doesn't work like that. And sometimes when we need a family dinner the most—like when a beloved uncle passes away or when a kid gets sick at sleep-away camp or when mommy's face swells up like the Elephant Man from back-to-back bee-stings—planning and cooking a meal can seem like too much to ask. But if you give it a try, sometimes you might end up laughing over delicious fresh-baked pizzas. Which is more than worth the attempt, right?
And now the return of school brings even more craziness—and significantly less chance to feel "organized and energized and on top of things." But, because I think eating family dinner is the best way to overcome that back-to-school stress, stay connected and, yes, on get top of things, I am redoubling my vow to do it—even though it sometimes seems like an impossible task with conflicting schedules, work projects and travel, sports, and homework. My (fairly modest) goal is to have family dinner more nights than we don't and to really attempt to relax and enjoy those meals. Call it my back-to-school resolution.
It ain't easy. But it's really not impossible, either. My advice is to keep your meals simple and adjust mealtimes to accommodate schedules (it's okay to eat dinner later than 6 p.m.; heck, in France they eat at 8). Just like cleaning out and refilling the produce bin—which I did this week, too—committing to family dinner is like making a fresh start. Instead of a daunting task or agenda item, think of dinner as a gift you get to give and get at the same time.
So here's to me new mantra, "smile and eat dinner." Keep reading because I've got a couple months' worth of delicious recipes coming soon!
My personal experiences this summer reinforced how important family dinners really are and how they can improve and enrich your life. Because of that, I developed a new class on this very subject: Stress-Free Weeknight Meals. I'm offering a special promotion if you sign up for it before Sept. 13. For more information or to sign up for this incredibly beneficial and fun class, click HERE.