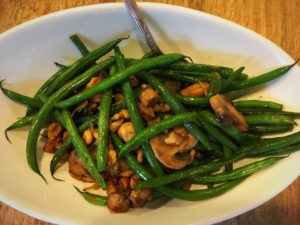 Trust me, I would never suggest anyone make any changes to their Thanksgiving menu. Aside from it being the day before the event, I am fully aware that for most of us, this holiday's recipe lineup is about a lot more than which dishes taste delicious and complement each other. It's about tradition. And in my family any suggestion that we might diverge from our traditional Thanksgiving meal — such as my husband's never-ending pleas for fewer salads or my sister's mild interest in "shaking things up" — is usually met with indifference at the least, and, more likely, utter scorn.
All that being said, the one instance where we do tend to switch things up is in the green vegetable department. Maybe it's just me and my obsession with balanced meals, but I really feel like Thanksgiving needs a green vegetable. After all, this is a meal where "salad" is a dish containing marshmallows. And, even though I have fond memories (kind of) of my grandmother's canned asparagus casserole and my husband swears his grandmother's green bean casserole — containing canned green beans, canned mushrooms, and of course cream-of-mushroom soup — was to die for, those aren't exactly what I have in mind. I don't particularly love cream sauce (I know, weird…), and I don't really need another dish fighting for oven space on Thanksgiving day.
So, if you're still looking for a green veggie side dish, I recommend something you can make relatively quickly on the stove — something delicious yet maybe not quite as decadent as everything else on the table. This green bean sauté contains shallots, thyme, and walnuts so it tastes vaguely traditional; it's rich enough for a holiday feast, but there's no cream and just a pat of butter, so it's  healthy(-ish). Consider it a little break for your stomach. And if this doesn't make it into your Thanksgiving spread, it would be fabulous at Christmas dinner — or next Tuesday.
Happy Thanksgiving everyone! I hope you all have a safe, relaxing, and delicious holiday with people you love.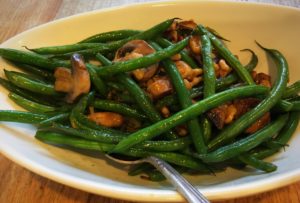 Sautéed Green Beans with Mushrooms, Walnuts & Thyme (serves 8 as a side)
Ingredients
1 small shallot, thinly sliced
2 garlic closed, minced
1 tbs. olive oil
1 lb. fresh French green beans, trimmed
8 oz. fresh mushrooms, sliced
1/2 cup walnuts, chopped
1 tbs. butter
Salt & pepper
Pinch of dried thyme
Heat oil in a large skillet and add shallots and garlic. Cook until softened, about 5 mins. Add green beans, a pinch of salt, and 1/2 cup water. Cook until beans become crisp/tender, adding more water if necessary. Add mushrooms and nuts and cook until mushrooms start to brown, stirring frequently. Add butter, salt & pepper, and thyme. Stir, test seasonings, adding more if necessary.