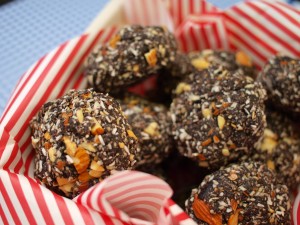 Wow, it's a snack bonanza this week here on Real Life Delicious. Today's guest post is from my good friend Helen Olsson. Helen's awesome blog, Mad Dog Mom, chronicles her adventures in parenthood, which have included taking her three kids backcountry skiing, llama trekking, and on multi-day camping trips before they could walk. Her new book, The Down and Dirty Guide to Camping with Kids (Roost Books, April 2012), is a fun read as well as a super helpful guide to everything you need to know before braving the backwoods with your offspring. Of course, I was especially interested in the chapter on Camp Grub, which is packed with useful tips (even gourmet camp chefs with mack-daddy mess kits will learn something, trust me) and delicious camp-food recipes.

I made Helen's Chocolate Almond Coconut Balls over the weekend, and I can attest that they are incredible. My kids oohed and awed over them, and they strongly protested when I suggested bringing them to a Cub Scout potluck at school because they wanted them all for themselves. I did bring a batch, and the Scouts loved them too. The only change I made to Helen's recipe, which follows her post, is I substituted maple syrup for the agave nectar. Enjoy!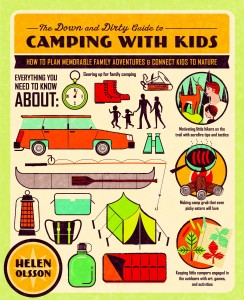 Ever since my kids were old enough for solid food, I've rarely left the house without a small cooler or a canvas bag filled with snacks and drinks. And if I ever do forget to bring the nibblies, I swear some alarm goes off in my kids' brains the moment we're a mile and a half from the pantry. That's when they cry out that they are starving. Starving? How could they possibly be hungry? We finished lunch a half an hour ago. Well, their continual need for snacks really gets my goat. But there it is.
Of course, the grocery store aisles are conveniently packed with processed, packaged snacks filled with questionable ingredients. My oldest son has severe food allergies, including dairy, peanuts, and all the tree nuts except for almonds. That seriously limits my options in the snack aisle. To avoid buying granola or energy bars by the boxload — especially the ones that would send my little dumpling into anaphylactic shock — I made it my mission to come up with a few homemade, nutritious on-the-go snacks for the whole family.
My latest creation is a chocolate ball that tastes not unlike a truffle but is packed with healthy ingredients like dates and almonds. Mine are made with almonds and almond butter, but you could easily sub peanut butter and walnuts if you like. The balls are best served chilled. Last winter, they were the perfect energy blast to pop in the kids' parka pockets (in a plastic baggie) when we went skiing.
My other inspiration for creating a tasty healthy snack was my new book. I wanted to include a few homemade bars in my "Camp Grub" chapter. As I was working on my manuscript last summer, I was constantly trying out different recipes. Eventually I made up my own, tinkering with the recipe in dozens of trials. Admittedly, I became a little obsessed. Over time, I got the consistency and ratio of dried fruit and nuts dialed. And get this, the kids actually like them.
Although the bars are great to take on a camping trip, if you decide to bring the balls, you'll want to keep them in an airtight container in your cooler. They'd get pretty gooey in a backpack on a hike in 90 degree weather.
Chocolate Almond Coconut Balls
Ingredients
1 cup whole almonds, separated
½ cup pitted dates
¼ cup cocoa powder (unsweetened)
½ cup agave nectar
½ cup almond butter
½ tsp vanilla extract
½ tsp sea salt
1¼ to ½ cup shredded (or shaved) unsweetened coconut
Heat the oven to 325 degrees. Toast the almonds for 8 minutes, shaking the baking sheet once midway. Using a food processor, coarsely grind ½ cup of the almonds. Add the dates and process until combined. Add cocoa powder, agave nectar, almond butter, vanilla, and salt. Process until mixture is smooth. Add the coconut, pulsing only till it's mixed in. Chop the remaining ½ cup of almonds and mix in (either by pulsing gently in the food processor, with a wooden spoon, or by hand).  You want some almond chunks in there. Form the batter into small balls with your hands. Freeze until hardened. Once hardened, the balls are perfect out of the fridge.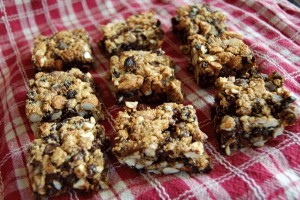 Fruit and Nut Bars (Makes 16 two-inch square bars)
Ingredients
½ cup all-purpose flour
¼ teaspoon baking soda
¼ teaspoon baking powder
¼ teaspoon kosher salt
¼ cup dark brown sugar, packed
2 cups almonds, coarsely chopped
¾ cup pitted dates, chopped
½ cup dried cherries, chopped
½ cup raisins
¾ cup semisweet chocolate chips (these are available dairy free, but you'll need to check the label)
1 large egg
½ teaspoon vanilla extract
Preheat the oven to 325 degrees. Lightly oil an 8″ x 8″ square pan. Combine flour, baking soda, baking powder, and salt in a large bowl. Add sugar, nuts, fruit, and chocolate chips, and mix with your hands until the fruit is coated with flour. Separate any sticky bits. Beat egg and vanilla together and add to the nut-and-fruit mixture. Mix with your hands until everything is thinly coated with the egg mixture. Pour mixture into prepared pan and flatten it down with a spatula. Bake for 35 to 40 minutes or until lightly browned. Let cool in pan. Using a stiff spatula, loosen the entire square and lift it carefully out of the pan and onto a cutting board. Cut into 16 squares.