Is anyone else still in denial about the end of summer? Although my kids have been in school for almost a week, I haven't quite gotten in the school-year groove yet. (And let me tell you, the sight of those two empty lunch boxes gave me a rude awakening on Tuesday morning!) Thankfully I have a holiday weekend to get my head in the game (and plan some meals). I have lots of "easy weeknight dinners" posts in the works! In the meantime, this post is about summer vacation and something I'll be cooking this weekend with the late-summer produce that I love so much. One of the best things about this time of year is the food, so I've included links to a bunch of other recipes, too. Enjoy!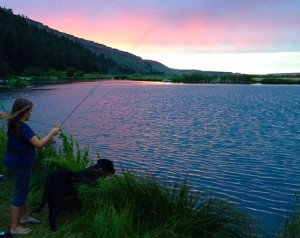 My family owns a log cabin in Montana. Before you start thinking we're fancy, I should mention that it was built in the 1970s by my father-in-law and his brother and that we share it with about ten of my husband's brothers and cousins. Although it's not exactly Gwyneth Paltrow's "Big Sky Country" experience (and we don't sport $1,600 puffy vests), it is beautiful and rustic and relaxing and an all-around amazing experience that — like all family vacations — is really hard to adequately capture with words. The kids run around with their cousins, fishing in the lake below the house, canoeing, creating and competing for "Camp Montana" badges, playing Gladiator on the standup paddle-board, and generally getting sunburned, mosquito-bitten, and dirty.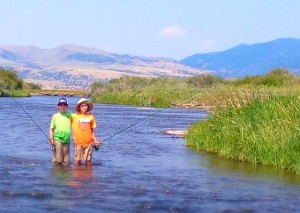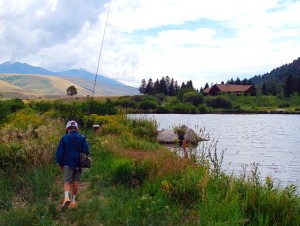 Me? I do some fly-fishing, take long walks with my (joyfully off-leash) dog, and read a lot.
And I do a lot of cooking.
I love cooking on vacation. The days are long and we eat late, so it's fun for me to be in the kitchen with a cocktail, chatting with my sister-in-law, while the kids are getting cleaned up and the men are kvetching about the gas grill. (Plus, I'm usually exempt from dish duty.)
We make big, simple meals, which we roughly plan out at the beginning of our stay so we won't have to make the 28-mile trip to the market in town very often. The market is small, and sometimes we have to improvise, but that's part of the charm of vacation.
Maybe it's because we're in Montana spending our days on hiking trails and in drift boats, maybe it's because of the cocktails, but everything always tastes great. And once in a while, some dish that got thrown together stands out enough for me to think, Hey I'll make this again!

This is a simple side dish that we made to go with steak & chicken fajitas. I've made it since a couple times, and what was tasty made with shrink-wrapped hothouse tomatoes from Madison Foods was fantastic with the incredible many-colored varieties practically overrunning the farmer's market back home. The corn is slightly Mexican and relish-y, but it would go with just about any main course. It's also a great addition to a barbecue or potluck menu, so I'll be making it this weekend with the local ears that are 10 for a dollar right now.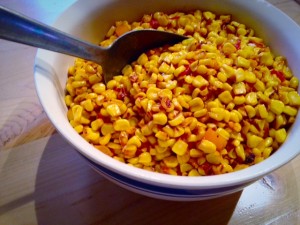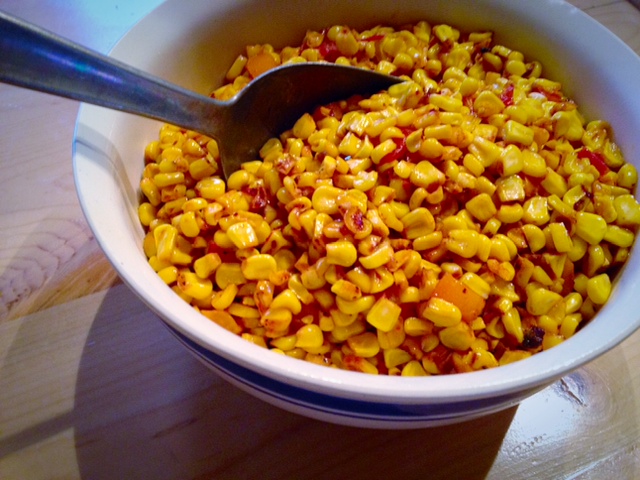 Sweet Corn with Tomatoes & Peppers
Ingredients
4 cups fresh sweet corn (about 6-7 ears)
2 fresh tomatoes
1/2 orange bell pepper, organic
Olive oil
Pinch ground cumin
Salt & pepper
First, shuck the corn (great job for kids) and cut the kernels from the cobs. I think the easiest way to do this is to use a serrated bread knife and a large, wide bowl or a platter with a rim (to contain most of the kernels, which tend to go flying). Stand the corn up and run the knife down in strips, turning the cob as you go, until most of the kernels are off. Heat the oil in a very large skillet over medium heat and add the corn. While the corn cooks, chop the tomatoes and the bell pepper, and add them to the pan. Season with cumin and salt & pepper. Continue to cook, stirring frequently, until the corn is cooked through and the vegetables are slightly charred. Test the seasonings and add more if needed. Serve with fajitas, burgers, grilled chicken, salmon, ribs, steaks, wraps, in salads, in pasta…
Looking for more ideas to make the most of awesome late-summer produce and prolong summer just a bit (or at least extend the flavors)? Here are a few past posts of mine with delicious late-summer recipes:
My Favorite Summer Tomato Sauce
Tangy Peach & Roasted Tomato Salsa