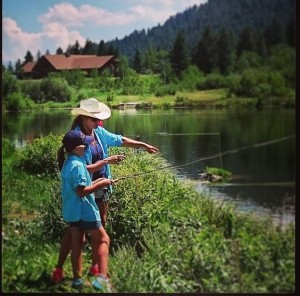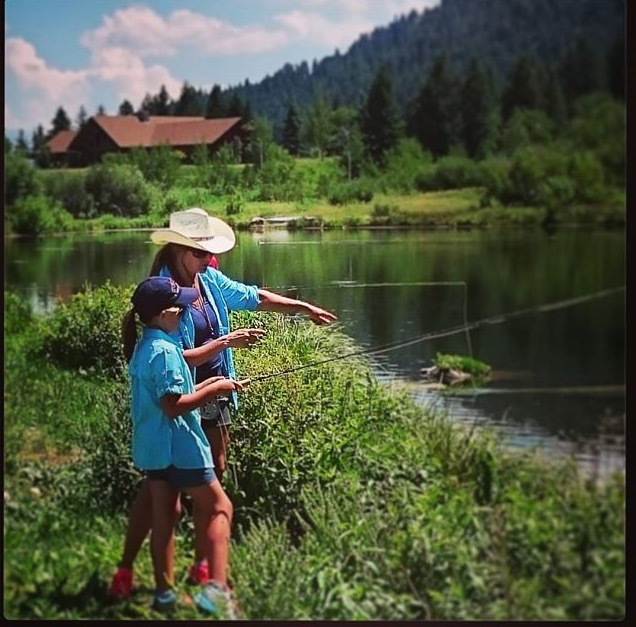 You know you're having a good vacation when…
— the dog is so tired he just lies around moaning,
— dumping the paddle board and a heated rock-skipping competition are tied for most stressful part of the day,
— you don't get around to making dinner until 9 p.m.,
— s'mores at midnight,
— you've made a trip to town to replenish supplies of sunscreen, limes, and Dr. Pepper,
— the kids are so preoccupied with their respective bug bites and buggered fishing lines to bicker with each other,
— the only company (besides the dog) you have on your daily walk is three horses who gallup along beside you,
— the TV hasn't been on at all (actually does that dusty thing even work?),
—a bald eagle flew right over your head last night.
I'm only writing this because a greedy crow squawking outside my bedroom window woke me up. The kids will be asleep for at least three more hours (they're almost as tired as the dog). I wish I could say I've created the ultimate all-American Fourth of July side dish or something. But as you can see, I've been otherwise occupied.
Instead, I reached into my "archives" for some of my all-time favorite holiday weekend recipes. All of these make great additions to a pot luck, barbecue, or poolside spread. They're (mostly) healthy, but I don't think anybody will mind. Happy Fourth of July!
Peach & Roasted Tomato Salsa
Ingredients:
3-4 lbs. fresh peaches (blanched in boiling water for 1 min. then peeled)
1 ear of corn
2-3 Roma tomatoes
1 Anaheim or other green chili pepper (jalapeño if you want more kick)
1/4 onion finely diced
Small bunch of cilantro
Juice of 1 lime
Pinch of salt
Heat oven to 400 degrees. Quarter the tomatoes and place in a small roasting pan, skin side down. Put green chili in the pan, too. Drizzle with a little olive oil and salt. Roast about 15 minutes. While it's still hot, put the roasted chili pepper in a plastic bag to "sweat." While the tomatoes are roasting, dice the peaches and onion. Cut the (raw) corn from the cob with a serrated knife. Chop the cilantro leaves a bit but don't worry too much about how big they are. When the tomatoes are cool enough to touch, chop them, too. Remove the pepper from the plastic bag and peel it, then finely dice it. Dump everything into a large bowl, add a pinch of salt and a few drops of lime juice, and gently combine with a spoon. Taste; add more salt and lime if needed.
Curried Brown Rice & Chickpea Salad
Ingredients
2 cups cooked brown rice
1 15-oz. can garbanzo beans, rinsed and drained)
1 red bell pepper, diced
1/2 cup finely chopped red onion
1/3 cup raisins or dried currants
1/2 cup chopped fresh cilantro
3 tbs. fresh lime juice (juice of one lime)
2-3 tsp. honey
3 tbs. extra virgin olive oil
2 tsp. curry powder
Salt & pepper
Combine brown rice, chickpeas, bell pepper, red onion, raisins, and cilantro. Toss to combine. In a small bowl, whisk together lime juice, honey, olive oil, curry powder, salt & pepper. Pour dressing over rice mixture and toss to blend. Season with additional salt & pepper to taste.
Homemade Lemonade
Ingredients
8-10 lemons or a combination of lemons & limes
1/2-2/3 cup sugar (Get the organic, unbleached kind; I don't know, it seems less refined.)
8-10 cups water or soda water (Only use soda if you're going to be drinking immediately.)
Cut the lemons and limes in half then squeeze into a pitcher or bowl. Set juice aside. In a small saucepan, combine sugar with 1 cup water. Stir over medium heat until the mixture becomes syrupy (don't let it scorch). Add 1/2 of the simple syrup to the juice and taste. If it's sweet enough, you can stop there; if it's not sweet enough, add the rest of the syrup. If it's still not sweet enough (and now you'll see just how much sugar they must put in most commercial lemonade since it's so ridiculously sweet), you can add a bit more sugar to it because it will be still warm. Stir well and dilute with water or soda to taste.
If you've had one of those afternoons, add a few shots of vodka. You might even want to mix with this. You're co-holiday-makers will love you.