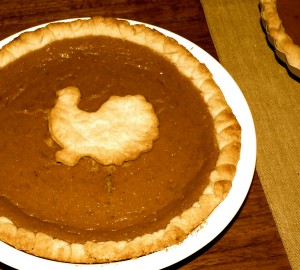 In honor of National Pie Day today, here is a guest post from my sister, Heather. (I don't bake much, and I love guest posts almost as much as I love pie.) She was in charge of pies this year for Thanksgiving, and let's just say she really hit it out of the park. Her Apple Butter Custard Pie was a creamy and delicious addition to the already impressive dessert lineup. It takes a seasoned baker to invent a pie recipe, especially one made from homemade apple butter!
Take it away, Heather:
"A few weeks ago, I was the recipient of what seemed like a bushel of Granny Smith apples from a friend's backyard tree. (I admit to not knowing exactly what quantity constitutes a "bushel," but let's just say it was a lot of apples.) We snacked on the tart, small green apples for a week, and — although I'm not a big fan of cooked apples myself — I baked a pretty good apple pie. What remained still felt like a bushel of apples.
After looking around for something to do with the remaining apples, I settled on apple butter, which I've never tried to make but is the one cooked-apple thing I really do love. Here's my recipe, culled from several versions I found in my cookbooks. Not only is this apple butter delicious on toast, it is also divine warmed and poured over vanilla ice cream (and of course in a pie, see below).
Homemade Apple Butter
Ingredients
5 lbs. (or more) unpeeled apples, cored and roughly chopped (enough to fill your large crock pot to almost overflowing)
4 cups organic sugar (I also think brown sugar would be great)
2 tsp. ground cinnamon
Pinch freshly ground nutmeg, to taste
1/4 tsp. salt
Place the apples in the crock pot, mound up as high as you can. Mix the sugar, cinnamon, nutmeg, and salt. Pour the mixture over the apples in the slow cooker and mix well. Cover and cook on high for 1 hour, then reduce the heat to low and cook 9-11 hours, stirring occasionally, until the mixture is thickened and dark brown. Use an immersion blender (or a lot of elbow grease and a whisk) to blend the mixture until smooth and creamy.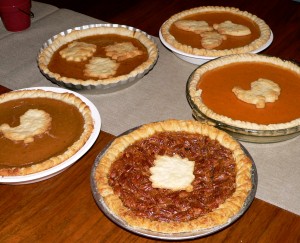 This recipe makes a lot of apple butter. I gave jars to my mom, my in-laws, my colleagues at the Tattered Cover, and the friend who gave me the apples (but not to my loving older sister). And since I was on pie duty for Thanksgiving, I decided to attempt making a pie with it (in addition to the maple pumpkin, sweet potato, and bourbon pecan that were already on the menu). I used a basic pumpkin pie recipe, replacing the pumpkin, spices, and sugar with the apple butter. I also added an extra egg, to make sure the custard was nice and thick. It was only an experiment, but it was a huge success; even the kids loved it!
Apple Butter Custard Pie
Ingredients
1 9-inch pie crust (I love the recipe for pie crust in "Baking Illustrated" by the Cooks Illustrated folks, and you can find un-hydrogenated, organic, vegetarian shortening at Whole Foods)
3 large eggs
2 cups apple butter (My homemade apple butter was a little thin, so I let it drain for a couple of hours in cheese cloth. You can also use store-bought organic apple butter.)
1/2 tsp. kosher salt
1 cup heavy cream
Heavy whipping cream, sugar, and vanilla extract for topping.
Set an oven rack in the lower half of your oven and preheat to 350. Whisk together the eggs, apple butter, salt, and cream and pour into crust-lined pie dish. Bake until the center is set (but not really firm), about 60-70 minutes. Let cool to room temperature before serving. Top with freshly whipped cream, sweetened with a little sugar and vanilla.
Hmmm, since it's National Pie Day and I've got pie on the brain, I just might make a potpie for dinner!"