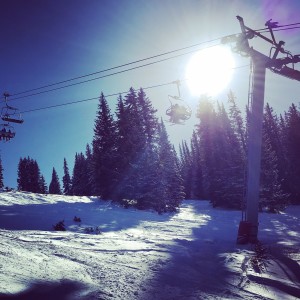 Okay, seriously people, where did January go? I hope all of your 2016s are off to a great start and that you're sticking to your resolutions if you made them. Since New Years, I have (mostly) avoided the incredible onion rings they serve in the ski lodge, and I've actually been craving green smoothies, crunchy salads, and herbal tea (I know, weird), so that's got to be good.
My one "real" resolution this year is to re-up my commitment to regular family dinner. Please don't groan. I know it can be a pain, but the reason I started this blog (and this business) in the first place was to inspire people to eat (preferably real food) together more often. After having crazy week after crazy week to the point where "crazy week" was becoming the norm (call it "activity creep") — and because I have a kid starting high school next year (wha?) — I have resolved take back our family meals. For me that means getting back in the habit of unplugging (that's key) and sitting down with my family to eat together at least more often than we don't (even if we have to eat at 9 p.m., which we do quite a lot).
I've written about the benefits of family meals before, but in case you need a refresher, here's what The Family Dinner Project, a nonprofit organization based at Harvard University, has to say about them:
Over the past 15 years researchers have confirmed what parents have known for a long time: sharing a family meal is good for the spirit, the brain and the health of all family members. Recent studies link regular family dinners with many behaviors that parents pray for: lower rates of substance abuse, teen pregnancy and depression, as well as higher grade-point averages and self-esteem. Studies also indicate that dinner conversation is a more potent vocabulary-booster than reading, and the stories told around the kitchen table help our children build resilience. The icing on the cake is that regular family meals also lower the rates of obesity and eating disorders in children and adolescents. What else can families do that takes only about an hour a day and packs such a punch?
And as much as it pains me to say this, it doesn't matter so much what you eat, just that you do it together. However, you might as well make something nutritious and delicious, right? I wrote about Italian Wedding soup in one of my first-ever blog posts, but the recipe was Ina Garten's, and it definitely wasn't weeknight-friendly. Since it's still one of my son's favorites, over the years I've simplified it to the point where 1) it's easy to make on a busy school night and 2) it feels like my own. I even left out the breadcrumbs in the meatballs. If you are avoiding carbs, just skip the pasta, too (although there would be a rebellion around here if I did that).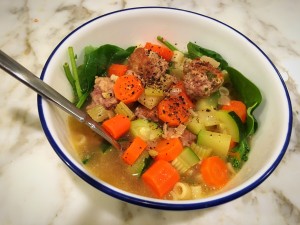 Easy Italian Wedding Soup
Ingredients
For meatballs:
1 lb. ground turkey
1/4 onion, diced finely
1 garlic clove, minced
1 egg
1/4 cup chopped flat leaf parsley
1 tsp. salt
Ground pepper
Olive oil
For soup:
Olive oil
2 carrots, chopped
2 celery stalks, finely chopped
1/4 onion, diced finely
Salt & pepper
4 cups chicken stock
1 zucchini, diced
A pile of leafy greens such as spinach, kale, or chard
1 cup cooked pasta such as ditalini or orzo
Parmesan for serving
In a large bowl, combine all meatball ingredients except olive oil. Add oil to a large skillet over medium-high heat. Using your hands, roll meat mixture into smallish balls (a little bigger than bite size) and place directly in pan. Be careful not to crowd the pan; you might have to cook the meatballs in two batches. Use tongs to turn them occasionally until browned on all sides (they don't have to be cooked through) and remove to a paper towel–lined plate.
Meanwhile, add olive oil to a medium soup pot or Dutch oven. Add carrots, celery, onions, and salt & pepper, and cook until softened. Add stock and bring to a boil. Reduce to a simmer and add meatballs and zucchini to the broth. Simmer for about 10 mins. until meatballs are cooked through. To serve, place a handful of greens (I used a combination of spinach and chard) in each bowl, add pasta if desired, ladle in soup, and sprinkle with Parmesan cheese (unless you're abstaining, this being January and all). Garnish with a healthy grind of black pepper.
I've FINALLY got a NEW cooking class! Nutritious & Delicious Family Meals is on Feb. 9! In this class, we will create a delicious meal that is fresh, satisfying, & nutritious—meaning full of things our bodies need. Join us! To SIGN UP, simply email me:

moc.suoiciledefillaer

null

@niveb