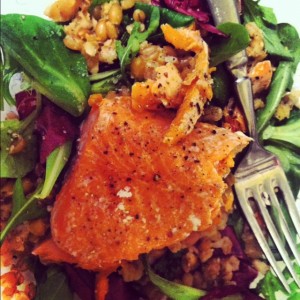 It's New Year's Eve. I won't bore you with too many thoughts on self-reflection or the little moment I had yesterday when I took down the Christmas tree. The holidays barreled through with so much force this year that I rarely sat back to enjoy them, which is about the only thing I regret — well, that and the plate of brown sugar shortbread I polished off the other day. And now, like every year, the new year has arrived without quite enough warning. It's time to get a fresh start, be a better person, hit the gym, go on a diet, start taking vitamins. You know the resolution drill.
Wow, does that sound fun? I have a better idea this year: Pick one thing. Just one thing to change in your life. It can be anything. Even small shifts can be life changing. One of the things I did a few years back was to start planning meals. I know this sounds like a boring pain in the butt, and it was at first, but it managed to make regular family dinners a reality for us. And that has made so many things in my family's life better — from the kids' eating habits and table manners to the way we relate to each other.
Since I love nothing more than spending an evening with a stack of cookbooks, and I devote a fair amount of my time to creating new dishes and trying new recipes so I can share them in my classes and on this blog, it occurred to me that maybe I could share the fruit of my meal planning work — since I'm going to be doing it anyway — with you guys. So, that's what I've been working on this fall, and I'm excited to announce that the REAL LIFE Meal Plan is here!
I've found that when we don't have a plan, even the best intentions and excellent cooking skills can be thwarted by busy schedules, and we end up resorting to unhealthy convenience foods, takeout, and fast food. But I also get that meal planning can be a daunting task, especially during your busy weekends. Well, that's where the REAL LIFE Meal Plan comes in.
Here's How It Works
All you do is subscribe, and you'll receive the plans on Fridays, in time for weekend shopping whenever it's convenient for you. And with only four meals in the weekly plan, you'll still have flexibility for real life, you know, things that happen like last-minute dinner invitations, rescheduled basketball games, and reruns and cereal nights. I've found that having a plan makes me calmer and more organized, and even if I skip or switch a night or two, I know I won't be staring into the refrigerator at 5 p.m. wondering what to make for dinner.
In addition to its built-in flexibility, what really sets the REAL LIFE Meal Plan apart from other meal plans you might have seen is the fact that these meals are all delicious. Every one of them. Of course they're made from real food, too. My hope is that having these recipes delivered every week will keep you inspired and excited about making dinner. Plus, I bet you will also feel great about the beautiful and tasty meals you're making, and of course eating all that healthy, real food will make you feel good. Not to mention your family will appreciate the fact that you're in a great mood these days, and you're sitting down to a fresh, delicious meal together.
What You'll Eat
All the meals are great. Here's a sampling:
Provencal Poached Fish
Asian Rice Bowls
Frittata Pizzas
Chicken Scampi
Lentil Soup with Chipotle Yogurt
Grilled Salmon the Farro & Greens (pictured above)
Garlic Prawns
Chicken Tacos with Avocado-Citrus Salsa
Bistro-Style Steak with Roasted Potatoes & Arugula
Salmon with Broccoli & Sticky Rice
How to Get The Plan
If you're so done with the cranky "What's for dinner?" conversation, the REAL LIFE Meal Plan is available at two subscription levels:
12-months for $24 per month
6-months for $32 per month
Either way, it easily pays for itself in less than one week's worth of takeout!
Eating well and enjoying meals with your family is one of life's great joys, and it doesn't have to be so hard. Why not make it easy to create healthy, delicious meals for your family in 2013? Get more information and subscribe to the REAL LIFE Meal Plan here.
Cheers! See ya next year.