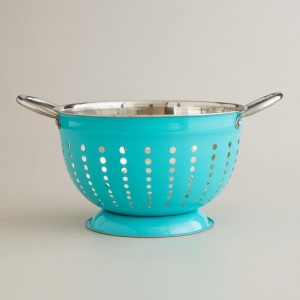 Here's what I'm coveting this year. One of these just might be the thing for the food lover (or eater) on your list.
Aqua Stainless Steel Colander: This baby is nice and big, and I love the gorgeous color (can you tell it's one of my faves?). Would make the basis for a great gift set for a young person with maybe some other utensils and a cookbook. It also comes in red.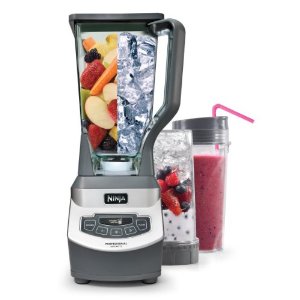 Ninja Pro Blender: Sure, we all want a VitaMix. But if that's not in Santa's budget this year, check out the Ninja. I've seen it in action, and it's pretty awesome. It's not as cheap as my Oster 6-speed, which smells and only blends the bottom two inches of stuff, but it's not $600 either.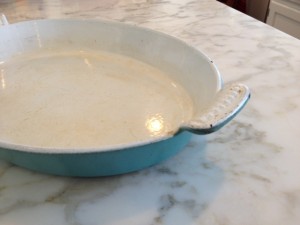 Le Creuset Heritage Cast Iron Baker: Actually, I already have one of these. It was my mom's in the 1960s. I use it almost every day, and it's still beautiful (see, that's mine above). Le Creuset recently reintroduced this iconic piece, and I can't recommend it highly enough.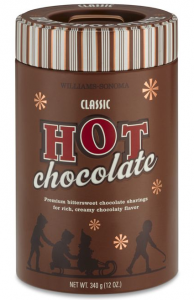 Williams Sonoma Hot Chocolate: Because it's not a powder made from cocoa, but shavings of real Guittard chocolate so delicious you will want to eat them with a spoon, right out of the can. It makes the smoothest and richest hot chocolate I've ever made at home. A great hostess gift.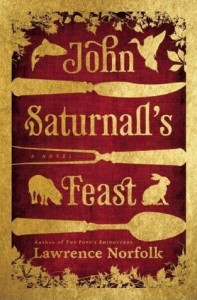 Books about food. I love books of all kinds (if you're even slightly interested in what I've been reading, you can check out my bookshelf on Goodreads), but the books I love to give (and get) as gifts are books about food and cooking. A few of my recent favorites are: Cooked by Michael Pollan (of course), the novel John Saturnal's Feast by Lawrence Norfolk, and The Grilling Book: The Definitive Guide from Bon Apetit by Adam Rapoport. This last one I have my husband for Father's Day, and it's become a slight family obsession. As for me, I'm asking for The Art of Simple Food II by Alice Waters, and I may have to pick up Tequila Mockingbird by Tim Federle for no other reason than I can SO relate to the jacket description:
Congrats. You fought through War and Peace, burned through Fahrenheit 451, and sailed through Moby-Dick. All right, you nearly drowned in Moby-Dick, but you made it to shore—and you deserve a drink!
Right? Right. Moving on…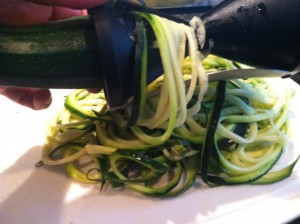 GEFU Spirelli Spiral Cutter: This thing is the BOMB. Truly. It cuts simple veggies into incredibly long strands of "pasta" — okay it's not really pasta, but it is delicious and fun to make and even passes muster with my kids (and their Paleo dad). It's my gift of the year this year.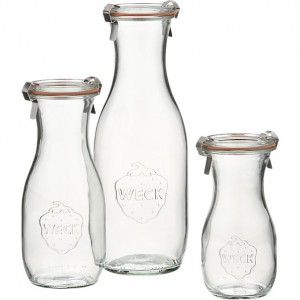 Weck Bottles and Canning Jars: Because they're so great for so many things, from making salad dressing to giving homemade gifts to serving cocktails. And because they fall into the category of things you can never have too many of.
Cooking Classes! I'd be remiss if I didn't include the wonderful gift of better eating — by learning how to plan, shop for, and prepare healthy and delicious meals without driving yourself or anyone else crazy. I offer a full schedule of classes (Lots of NEW offerings for Winter 2014 coming soon!) and would love to print a beautiful Real Life Delicious Gift Certificate for you to give your favorite person! Please contact me for prices and information.
If you're like me and haven't bought one single present, I hope this list is helpful. If you're one of those people who's been done with their shopping since mid-July, I forgive you (even if you make the rest of us look bad). I hope all of your holidays are filled with fun family meals, delicious smells, sugar cookies, and plenty of cocktails. Merry merry!