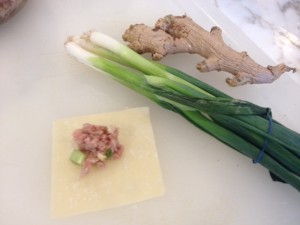 In my mind, there are two kinds of food: restaurant food — sushi, tamales — and make-at-home food — pasta, roast chicken. I must be lazy, but I've never seen any reason to tackle hunting down the ingredients and then taking the time to make something like Vietnamese egg rolls when I can waltz down to New Saigon and order what might be the Single. Best. Thing. On. Earth. to eat for about 11 bucks.
Wonton soup has always fallen into the "restaurant food" category, too. But last week, I was toying with ideas for my new Cooking Class Birthday Parties (more on this soon!) and thought 10-year-old girls might enjoy making something with wonton wrappers. So I bought some, enlisted my 9-year-old daughter to help, and spent an hour making wontons. And it was really, really fun. It was kind of like making cookies in that there's more assembling than actual cooking so Lauren's help was actually needed. And it reminded me how worthwhile cooking with your kids is — they get to learn something, be exposed to a food they might not normally eat, and hang out with their mom somewhere besides soccer carpool.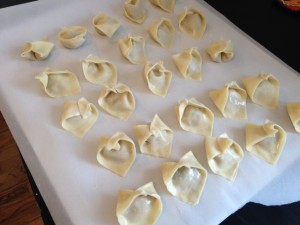 And the wontons turned out great. Amazing, really. Dare I say it, better — well, definitely healthier — than my favorite Chinese restaurants'? I made my wontons with ground turkey, a little garlic, green onion, and ginger, but you can obviously change up the flavors and meat to suit your tastes (ground pork is traditional). We experimented cooking them in soup broth and also pan-frying them in a little olive oil (yum). They would actually make a great after-school snack or cocktail party appetizer.
So, has wonton soup moved from the "restaurant food" category to "make-at-home?" Probably not. This is a project best saved for a rainy day or quiet evening (not the norm for most of us I'm pretty sure…!). But it's totally worth doing.
Also, I froze about 36 wontons, so the next time I have a cold (which for some reason is when I crave wonton soup), all I'll need to do is chop some veggies and throw it all into a pot of chicken broth — or, if I'm also craving Mu-Shu veggies and MSG, call Red Dragon.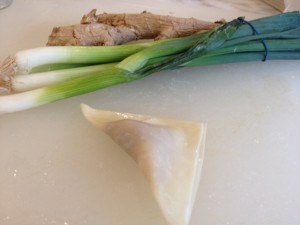 Homemade Turkey Wontons
Ingredients
1 lb. ground turkey
2 scallions, finely chopped
1 tbs. ginger, minced
1 clove garlic, minced
1-2 tbs. soy sauce
1 tsp. rice vinegar
1/4 tsp. sesame oil
Salt & fresh ground pepper
1 tsp. cornstarch
1 package (50) wonton wrappers (in my store, these were in the dairy aisle, don't ask me why)
Combine the turkey, scallions, ginger, and garlic in a large bowl. Add the soy sauce, vinegar, oil, salt, pepper, and cornstarch and mix well. Open the package of wonton wrappers and cover with a damp paper towel. Have a small bowl of water handy.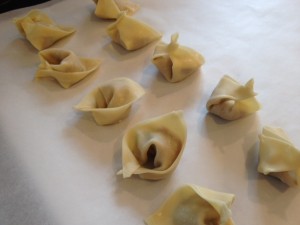 To assemble the wontons, place a wrapper on your work surface, and use a spoon to drop a teaspoon of the meat mixture on the center of the wrapper (we started out using another spoon to remove the meat from the first spoon but quickly switched to using our fingers). Moisten two connecting sides of the wrapper with wet fingertips, then fold the wrapper diagonally in half. Press the edges firmly to seal. You will know if you overstuffed your wonton at this point; you really only need a tiny amount of filling for each one. Next, carefully bring the two long ends of the wonton together and pinch to seal, making sort of a funny-hat-shaped ring. Place the finished wontons on a baking sheet lined with parchment or wax paper.
If you're making soup with your wontons, bring a pot of chicken broth flavored with ginger and a little soy sauce to a simmer, add whatever veggies you like (or have one hand — but some bok-choy would be nice, as well as snow peas) and add the wontons with a slotted spoon. Cook about 7-8 mins. until meat is cooked through (you will have to cut one open to check). Season to taste with salt, pepper, and Sriracha.
If you'll be freezing the wontons, cover the baking sheet with plastic wrap and freeze. Once they're frozen, you can transfer to a plastic freezer bag.