So, I had a big night out this last week. A girlfriend of mine scored four tickets to see Ina Garten speak at the Paramount Theater in Downtown Denver. Yes, we were essentially paying for the privilege of helping the Barefoot Contessa promote her newest cookbook, Make It Ahead, but we (and about 1,800 other people) were quite happy to do that.
I loved listening to Ina talk about her life, which (besides the White House nuclear policy analyst part) is actually quite relate-able: She's a (very!) happily married self-taught cook who bought a food shop. (The shop was called the Barefoot Contessa after a movie starring Ava Gardner about a Spanish stripper who goes barefoot and marries a Count. Ina liked the name because it seemed "elegant but earthy.") Her food tasted really, really good, and the shop became a huge success. Eventually she started writing cookbooks and having her own show on Food Network, in which she cooks fabulous meal after fabulous meal for her lucky (and I assume also happily married) husband and friends.
I generally don't love cooking shows because they seem to promote an aspirational or extreme style of cooking and eating, but I do love Ina. She really seems to love food, and her attitude about cooking is so simple: "Cooking is about comfort and warmth and taking care of your friends," she said. "When you cook, everybody shows up." These are especially nice sentiments for the week of Thanksgiving, don't you think? And they serve as a nice reminder that good food can be (and probably should be) as much about love and generosity as it is about ingredients and cooking times — although Ina gets those right, too. Her recipes always work.
After the show, we went to a bar near the theater and ordered a bottle of white wine (chardonnay; they didn't have Ina's favorite, sauternes). Next thing we knew it was almost midnight and we were still there, talking about cooking, gushing about our favorite recipes (including my friend Anne's Crock Pot ribs), and drooling over the photos and all the great ideas in our shiny new cookbooks. (Less than a week later, I've already made the Paremsan Kale Chips, the Baked Farro & Butternut Squash, and the Salted Caramel Nuts — all delicious. Up next: Garlic & Herb Roasted Shrimp and Roasted Vegetable Lasagna.) We were downright giddy; you would have thought we'd just been to see Bon Jovi, not a cheerful, middle-aged cookbook author.
Needless to say it inspired me. And pulled me out of the slight veggie-side-dish rut I've been in lately (yes, even food-blogging, cooking class–teaching, culinary geeks can get in a rut now and then, balsamic sauteed zucchini anyone?) While I love throwing things together based on what's in the fridge, Ina's recipes are kind of like that only better. Often I find I already have all the ingredients she calls for on hand, and making the dish is as easy (or easier) than using my brain to come up with something myself.
And leave it to Ina to improve on my all-time favorite roasted cauliflower (which I have made once a week for, oh about two years). This was gobbled up by my family, including two fourth grade friends of my daughter who both told me they didn't like cauliflower. Speaking of gobbling, this would make a great accompaniment to a roast turkey.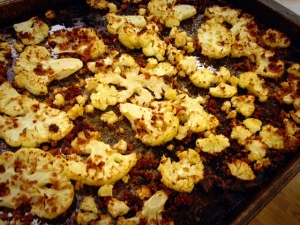 Roasted Cauliflower Snowflakes (from Make It Ahead: A Barefoot Contessa Cookbook, by Ina Garten)
Ingredients
1 head cauliflower (about 2 1/2 lbs.)
Good olive oil (I love how Ina calls for better ingredients without being snobby about it)
Kosher salt & freshly ground black pepper
1/2 cup panko (Japanese bread flakes; I didn't have these so I used toasted whole wheat bread crumbs, which is why mine didn't really look like snowflakes)
1/2 cup freshly grated Parmesan cheese (she suggests using a box grater for bigger shreds)
Preheat oven to 425 degrees. Remove the leaves and trim the stem from the cauliflower but leave the core intact. With a sharp slicing knife, cut the whole cauliflower in large (1/2-inch-thick) slices. Don't worry if the slices fall apart; they'll look like snowflakes. Place the cauliflower on a sheet pan, drizzle with 3 tbs. of olive oil, and sprinkle with 3/4 tsp. salt and 1/4 tsp. pepper. Roast the cauliflower for 15 mins. Toss the panko with the 1 tbs. of olive oil, sprinkle on the cauliflower, and roast for another 10-15 mins., until tender and browned. Sprinkle with the Parmesan and roast for another minute or two. Immediately scrape the pan with a metal spatula and toss the cauliflower and Parmesan. Serve hot or at room temp.