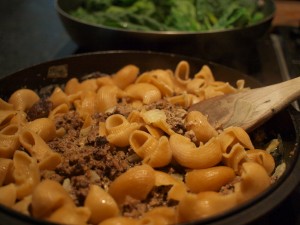 The very idea of "summertime meal planning" is kind of an oxymoron, right? I mean it's pretty farfetched to imagine any sane person sitting down on a gorgeous Sunday afternoon with a stack of cookbooks and a notepad to plan out the week's meals — well, unless of course you could do it poolside…
And even if you were to attempt it, your week would probably look something like mine: Sunday (family bike outing in LoHi; skip), Monday (friend's going-away party; skip), Tuesday (kid's baseball game; grill burgers afterward), Wednesday (tennis match and Rockies game; skip), Thursday (make a quick meal before friends' book-launch party); Friday (probably eat at the pool; skip), Saturday (seriously, who can think that far ahead!).
While I love the freewheeling schedule and fun evening activities, I still do try to have a family meal (at home) at least a couple nights a week. We need to regroup here every few nights — if nothing else, the kids' feet seriously need washing. And, as much as I like the idea of it, we can't grill out every night, especially with severe thunderstorms and tornadoes in the forecast so often lately. So, I do occasionally turn on the stove, but that doesn't mean I need to stand there for very long. I like my summer meals — the ones I cook inside anyway — to be fast.
With very little planning, Tuesday's leftover hamburgers (and we always seem to have leftover burgers) became an almost-instant pasta dish on Thursday that I must admit was very delicious. My idea came from one of my favorite recipes in Marcella Hazan's famous cookbook, Essentials of Classic Italian Cooking, although my version of her bolognese really only retains the meat and milk. I even punted the tomatoes this time, but of course feel free to add them (or anything else from her recipe) back in.
I had already cooked the noodles over the weekend for a pasta salad I was bringing to a potluck, and in case I've never shared this tip, here goes: Whenever you're cooking pasta (this goes for rice, too), cook more than you will need for one meal. It's just as easy (although you will probably need to boil a larger pot of water) to cook two bags as one. Once you have already-cooked pasta and some browned meat, a home-cooked meal is literally 10 minutes away. Which leaves a lot more time for bike rides, batting practice, kickball — and washing feet.
Leftover Hamburgers Pasta
Ingredients
1/2 onion, chopped
Olive oil
3-5 cooked hamburger patties (if they have melted cheese on them, just peel it off while it's cold and discard)
1/4 cup milk
Slight pinch of dried nutmeg
Salt & pepper
Cooked pasta such as whole wheat penne, macaroni, or chiocciole
Parmesan cheese
Heat 1 tbs. oil in a large skillet. Add the onion and saute until soft and translucent. While onions are cooking, cut/crumble the burgers into bite-sized pieces and add to the skillet. Add the nutmeg and the milk and lower the heat to low. Cook gently until the liquid is gone, stirring occasionally, then toss in cooked pasta and heat until warm. Top with Parmesan cheese. Serve with a side of veggies or a salad — or, since it's summer, maybe just some cucumber and watermelon slices.