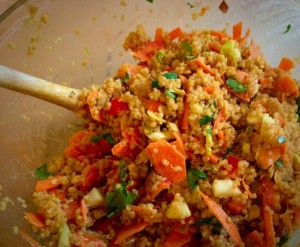 It's kind of embarrassing to say this, but quinoa is one of those foods that somehow passed me by. I can remember the moment I first tried it. I was on an adult leadership course through the Colorado Outward Bound School, and one of my course-mates was (way ahead of her time; this was the mid-90s) trying to avoid processed grains and white flour. For anyone who hasn't experienced Outward Bound, the food is something to behold. At the beginning of the course, a huge pile of foodstuffs including industrial bags of rice, flour, and oats, along with huge bricks of cheese, and miscellaneous spices is divided among the students to carry for three weeks through the wilderness. Not only did we get really strong carrying heavy bags of flour over 12,000-foot mountain passes (and learn how we cope with things like wet socks, solo time in the wilderness, map-reading disagreements, and false summits) —  we also quickly learned how to turn white flour, salt, and river water into pizza dough. And how to cook that pizza on a backpacking stove the size of a juice glass. I — in my twenty-something naivete — thought we were eating like kings. But one in our number brought all her own food, including nuts, sprouts, and quinoa, which I tried one night and almost spit out (forbidden on OB, by the way; ALL food must be consumed in order to Leave No Trace, and avoid attracting bears, which made for some gag-inducing oatmeal-eating sessions when we made too much). Her quinoa was extremely bitter. It tasted like some kind of birdseed mush that you would only eat under duress. I decided there and then that I. Did. Not. Like. Quinoa.
Quinoa is one of those foods we are supposed to love — you know, a "superfood." It is high in protein (one of few complete vegetarian protein sources) and fiber, and it's gluten-free. Quinoa is also a good dietary source of magnesium, iron, and calcium. Officially it's a grain crop, but it's actually the seeds that we eat, so many claim it's easier to digest and easier on the body than wheat or rice. These are all great reasons to love quinoa, right? Too bad I've hated the stuff since 1995.
Then the other weekend a lovely couple brought a quite high-class picnic to our daughters' softball game. They had hummus, vino verde, and a container of quinoa salad, which the wife had thrown together with veggies from her garden (in her free time between shifts at a hospital where she's a doctor and twice-daily cross-fit sessions). Initially I begged off the salad, but she insisted. And it was fantastic. Not just "okay for quinoa," but truly delicious. So the next day I went to the store to buy quinoa (I had to ask where to find it), got home — then googled the recipe and realized I didn't have many of the ingredients. So I improvised. And guess what? I liked my version even better. It's crunchy, slightly sweet, a little spicy, and very, very satisfying.
My food obsession this summer is "salads that keep" — I love making a salad that I can eat with dinner one night and then have for lunch the next day, and the day after that. They are also awesome to bring to pot lucks and camping trips. Until now, my repertoire was: kale, Asian slaw, kale & Brussels sprouts, and more kale. Now, thankfully, I can add this quinoa salad to the list, and I can't wait to try more tasty riffs on this concept. If you'd like to try the original version, use the link above. Here's mine: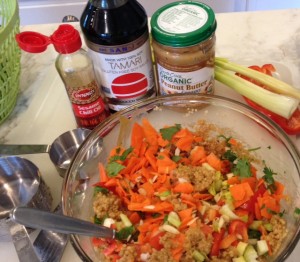 Quinoa Salad with Crunchy Vegetables & Tangy Peanut Dressing (I highly recommend doing two things: doubling this recipe and tweaking it based on what veggies you have on hand.)
Ingredients
3/4 cup quinoa (I used Arrowhead Mills)
1 cup shredded carrots (I did this in the food processor)
1/2 cup chopped celery (2-3 stalks)
1/2 cup chopped red bell pepper (about 1/2 large pepper)
1/3 cup sliced almonds
1/4 cup chopped cilantro (or more if you love cilantro like I do)
1/2 lime
For the dressing:
¼ cup natural peanut butter (I used Santa Cruz Organic)
3 tbs. soy sauce (I used San-J Gluten-Free Tamari)
1 tbs. honey
1 tsp. Chinese 5 Spice powder (or you could use a pinch each of dried ginger, cinnamon, and allspice)
Pinch Harissa powder (or hot paprika and cayenne would work, too)
1 tbs. red wine vinegar
1 tsp. sesame oil (Mine is actually a sesame-chili oil, so slightly spicy)
1 tsp. olive oil
Squeeze of lime
Rinse quinoa with cold water in a fine mesh strainer (this is crucial to
remove the bitter saponin taste
that put me off quinoa for 20 years). In a medium saucepan, bring 1 ½ cups of water to a boil. Add in quinoa and bring mixture to a boil. Cover, reduce heat to low, and let simmer for 15 mins. or until quinoa has absorbed all of the water. Remove from heat and fluff quinoa with fork; place in large bowl and set aside. To make dressing: Put peanut butter and honey in a medium, microwave-safe bowl and heat in microwave for 20 seconds. Stir in soy sauce, vinegar, spices, and both oils and stir until mixture is smooth and creamy. Add a tbs. of water if it seems too thick. Pour the dressing over the quinoa. (I started with about half, tasted it, and then ended up using all the dressing.) Stir in the veggies, cilantro, and nuts. Serve with lime wedges if desired. This is good both room temperature and cold.