So, another school year is behind us. The crazy last few weeks of school (who can relate to this?) were especially momentous because my son graduated from middle school (oh, and my daughter graduated from elementary school). In addition to the usual last-minute reading log panic attacks, pizza parties, and ice cream socials, the following events were on our calendar: Eighth grade dinner, eighth grade pool party, eighth grade bowling party, graduation mass, cotillion, pre- and post-graduation parties. All during the last two weeks of May.
I didn't really have time to get too overly sentimental about my son leaving the school he's attended since kindergarten, but when we were hanging out in the park at the eighth grade family picnic on the Saturday of Memorial Day weekend (that would be after the graduation after-party), it hit me what a special group of kids were in his class, and how fortunate we have been to share their childhoods with them and their families, especially their amazing moms. I will miss the camaraderie and closeness and clinking wine glasses with the women whose kids have been in my son's life for nine years.
Part of me wants my son to stay in our sweet little parochial-school bubble forever, but he is SO ready to go. (On the last day of school, the 8th grade boys shredded their uniform shirts and tied the collars around their heads like frat boys at a kegger; the nuns were beside themselves.)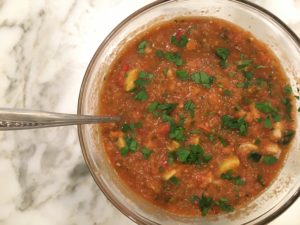 None of this has anything to do with food, obviously. But I've been meaning to share this crazy-good gazpacho recipe for weeks now, and the events I just wrote about are the main reason I'm just now getting around to it. Now that he is going to high school, I want my son to make new friends (of course), but I really hope he makes an effort to remain friends with his grade school buddies. I think he will. And I plan to remain friends with their moms. If I can't entice them to come over for a glass of wine, I'm sure I can with this soup (and wine).
I make this in my True Food Kitchen cooking class, and it's always a hit. Cold soup is one of my favorite things on a hot night, and this hits all the savory, summery notes. The only changes I made from Dr. Weil's recipe are to eliminate one can of tomatoes and add the tomato paste. I also like to roast the tomatoes because I prefer the flavor over raw. But if it's 90 degrees, I don't go anywhere near my oven. Since they're in season and (relatively) reasonable, use an assortment of gorgeous heirloom tomatoes. It's a great excuse to ride your bike to the farmer's market. As if you needed one of those.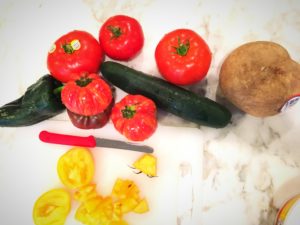 Heirloom Tomato Gazpacho (adapted from True Food: Seasonal, Sustainable, Simple, Pure by Andrew Weil, M.D.)
Ingredients
4 lbs. heirloom tomatoes, chopped
2 tbs. tomato paste
2 celery stalks, diced
1 poblano chile, stemmed, seeded, and chopped
1 red bell pepper, diced
1 small onion, diced
1/2 cup diced jicama
1 medium cucumber, peeled, seeded, and diced
1/4 cup chopped fresh Italian parsley
1/3 cup red wine vinegar
2 tbs. extra virgin olive oil
2 tsp. Worcestershire sauce
1 ½ tsp. green hot sauce (I use Marie Sharp's Green Habanero sauce)
2 tsp. salt
1 tsp. ground cumin
1/2 tsp. cayenne pepper
Optional: Roast the tomatoes in a 375-degree oven for 20 mins. (You can also use raw tomatoes.) Combine all ingredients plus 1/4 cup cold water in a large bowl and mix well to combine. Remove three cups of the mixture and put in a blender. Blend until smooth and then return to the bowl. Mix well, cover, and refrigerate. Serve cold.