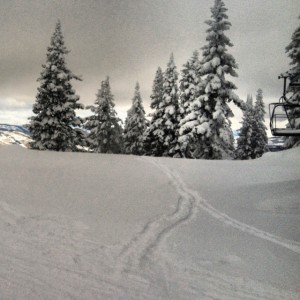 Our family skis in the winter. Every Friday we pack up the car and head to the hills. We get home late on Sunday, unload the car, empty the ski bags, wash everything, repack the ski bags and the car, and do it all over again five days later. Every week. For 10 weeks. But it's (mostly) worth it. My kids have become confident skiers, and I like to think all this fun, outdoor family time is making a positive impression on them.
The reason this routine, as relentless as it is, feels like a bit of a "lull" for us is that, because of the skiing commitment, my kids don't do much in the way of after-school activities during January and February. So leisurely (somewhat) sit-down family dinners are the norm.
But now March is here, the ski program is basically over, and — wham! — it's back-to-back (or overlapping) sports practices every night. Of course, being a mom of active, grade school-age kids, I'm fully prepared for 45 minutes of driving and kids changing and doing homework in the car. No problems there. What I can't abide is missing dinner. Sure, the occasional portable turkey sandwich supper isn't going to harm anyone, but I really miss dinner when we don't have it. So, I've decided to break one of those long-standing rules I've always known but never really knew why: We're eating dinner after 8 p.m. We've done it a few times this week, and it's actually a nice way to wind down. It feels a little European, and the kids get a kick out of staying up past their bedtime.
One of the keys to making dinner happen is fitting in to your schedule, and if the only time you can gather everyone around a table is 8:30 at night, well I say don't stress about it. The kids will still be in bed by 9 or 9:30. And I know you're probably wondering about the wisdom of eating right before bed; all I can say is we haven't seen any ill effects. And, yes, snacks are required (that turkey sandwich works well) to ensure nobody starves to death before dinner.
Another key to making dinner happen is planning. I highly recommend a meal plan, either mine or your own. If you know what you're going to make and have all the ingredients to make it, you're much more likely not to hit the drive-through. For days when you look at the schedule and know it's going to be dicey, I like one-dish meals that can be prepped ahead of time and then thrown in the oven for a specific amount of time. This baked chicken is a perfect example, and you can use this recipe as a template for many late-night suppers to come. My family really enjoyed this — probably because a cozy meal of crispy chicken with roasted veggies is the last thing you expect to sit down to at 9:00 at night.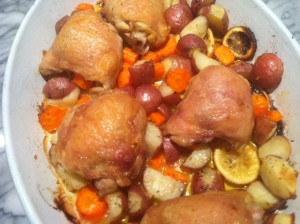 Deliciously Easy Baked Chicken & Vegetables
Ingredients
1 package skin-on chicken thighs (about 5 or 6)
1 lb. new potatoes
3-4 large carrots, peeled
Any other vegetables you want to include: green beans, broccoli, and Brussels sprouts all roast beautifully
1 lemon
Olive oil
Dried thyme
Salt & Pepper
In the morning or whenever you have time, chop the carrots and cut the potatoes into 1-inch pieces. Slice the lemon. Pour a little (1/2 tbs.) oil in the bottom of a large casserole dish and lay the lemon slices in the dish. Toss the vegetables with 1 tbs. oil, a pinch of thyme, and salt & pepper. Pour into dish over lemons. Brush the chicken with a little more oil and season with salt & pepper. Place thighs on top of the vegetables and cover with plastic wrap and keep in the fridge until you're ready to bake. If you're not home, instruct your spouse or older child to preheat the oven to 450 degrees. Bake uncovered for 35-40 minutes until chicken is cooked through and skin is crispy.