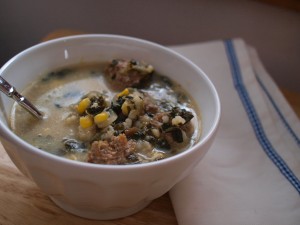 First, I want to preface this post by saying that I in no way expect anyone to make this soup recipe exactly as I am writing it. Not because it isn't delicious (it is), but because the idea behind this soup — and this post — is that you can make soup — really good soup that's way, way better than store-bought and of course a lot better for you — out of just about anything. And on a day like today, when it's 23 degrees and the roads are slick as a shot luge, I find it comforting to know I can skip a trip to the grocery store and still produce a tasty, healthy, and warming dinner from the assorted, varying-degrees-of-freshness food items that seem to accumulate in my fridge and freezer.
The trick to making successful soups is to take your time (I know, hah! Right? Thankfully, you don't have to be manning the soup while it's simmering; all it needs is an occasional taste and stir). Start by slowly cooking whatever aromatic vegetables you have on hand, usually an onion or a shallot and maybe some celery and minced garlic, in a bit of olive oil. Don't saute them, just cook until softened. Then add some liquid (vegetable or chicken stock if you have it, but don't think you can't make soup if you don't; water works too). Bring it to a boil and simmer for a while, then you can add whatever else you've got: cooked meats, grilled veggies, pasta — or in this case meatballs, frozen vegetables, and leftover brown rice. Let it simmer a while more while your kids take hot baths and get into their cozy fleece jammies, season the soup with salt & pepper and maybe add a little cream to finish, and you're done. Everyone's happy and well fed, and whoever is on dish duty only has one pot to clean.
While there are some good reasons not to make this exact soup, I have to say it was really fun and satisfying to cook (and eat). My daughter loved rolling the meatballs and dropping them into the pot of boiling broth (they cook like dumplings; no browning — or skillet scrubbing — required), and I got a huge kick out of purging some bags of frozen veggies and leftover rice from my freezer (yeah, that's my kind of fun). Just in case that sounds enjoyable and/or delicious to you, here's the recipe. Feel free to improvise.
Meatball Soup
Ingredients
1 lb. ground meat (I used game, but lean ground beef or a combination of beef and pork would be great)
6-8 cups stock or water, or a combination
1-2 tbs. extra virgin olive oil
1/2 large onion, chopped
2-3 garlic cloves, chopped
2/3 cup bread crumbs
1 egg
1 tsp. dried herbs, such as basil, parsley, or oregano
1 16-oz. bag frozen chopped organic spinach
1/2 bag frozen organic sweet corn (about 1 cup)
1 cup cooked brown rice
1/4 cup whole milk or half & half
Salt & pepper
Heat about 1 tbs. oil in a large pot or Dutch oven over medium-low heat, add chopped onion and garlic and cook until softened, about 10 minutes. Add liquid and bring to a boil. While the liquid is heating, combine ground meat with bread crumbs, egg, and herbs. Using your hands (this is the fun part), mix until the meat mixture is well combined. When the liquid begins to boil, roll meat into small (about 1 inch) balls and drop into the pot. After all the meat is rolled and cooking, allow to boil for another 10 minutes or so, then add the frozen vegetables. After another 10-20 minutes, stir in the rice and test the seasonings. Add salt & pepper to taste. At this point, the soup is ready, but it will just get better and better the longer it simmers. If you'd like a creamy soup, add the milk or cream.
Serve with (leftover, frozen of course) French bread and butter.