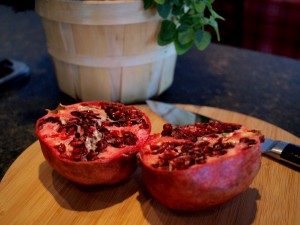 If I were to ever use the word "festive" to describe a salad, this would probably be the only time. But even though this salad looks a bit like holly with berries and contains the ultimate champagne-cocktail addition, I'll refrain. Instead, I will say this salad is light and simple and would look beautiful on your holiday buffet. It's always nice to add a little something green and, ahem, healthy when we're stuffing our faces with — in our case — lobster mac-n-cheese, paella, and oysters Rockefeller (Don't ask; our Christmas Eve tradition is a bit different than most…), right?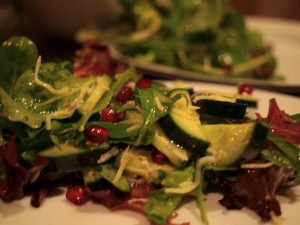 As you can see, this salad's marquis ingredient is pomegranate seeds. I've noticed that pomegranates are having a bit of a moment right now (great news since pomegranates are so awesome for you; check out these nutrition facts), and you can even buy the seeds pre-hulled from the fruit. By all means do that — if you want to spend $15.99 a pound (about the price of lobster) for the seeds. If not, you can buy a whole pomegranate for about a dollar, cut it open, and pick the seeds out yourself. I think it's kind of fun, albeit messy, so I save my money for lobster.
Holiday Greens Salad
Ingredients
10 oz. organic mixed salad greens
1 organic cucumber, halved lengthwise and sliced (I like the look of the dark-green peel so didn't peel it)
1/2 cup pomegranate seeds
1/4 cup Aged Gouda or other semi-hard cheese (shredded)
Kosher salt & freshly ground pepper
For the dressing:
3/4 cup extra virgin olive oil
1/4 cup red wine vinegar
1 tbs. Dijon mustard
1/2 tbs. honey or organic agave nectar
1/2 tbs. lemon juice
1 tbs. pomegranate juice (again, you can buy this in a bottle, or you should be able to reserve about this much when you peel the pomegranate to harvest the seeds)
Salt & pepper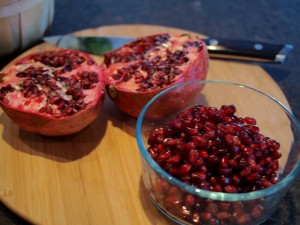 Assemble the salad in a large salad bowl. Obviously you can add whatever vegetables you like in your salads, or some nuts might be nice. I prefer my salads simple, especially when I'm serving them as a side dish.
Combine the ingredients for the dressing in a jar with a lid (I took this opportunity to use an almost-empty Grey Poupon bottle that I had been saving for my next big salad — my favorite vinaigrette trick.) and shake well. Taste and add more oil, vinegar, salt, or whatever you think it needs. The dressing should be a little fruity and sweet but not overly so. Right before serving, pour dressing over salad (you might not need it all) and toss with tongs.