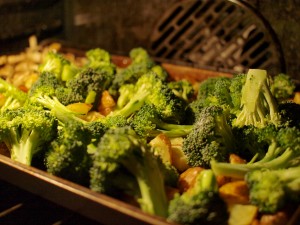 If the dressing for this warm-yet-summery salad seems vaguely familiar to you, I must take a minute to thank you for being a loyal reader or subscriber. The recipe was was buried in one of my overly long, multiple-recipe early blog posts, and a version of it can also be found in my free cookbook, Easy Recipes from Real Food (which you, too, can get simply by subscribing to this blog!).
I feel okay about writing about this vinaigrette again because: a) I had exactly 13 subscribers when I posted it before, b) I've streamlined the method of making it so it's much less of a chore and requires no heavy equipment, and c) it's herb-y richness is incredibly delicious on just about anything, especially summertime favorites like grilled vegetables and pasta or potato salad.
In this case, I used my favorite Fresh Herb Vinaigrette on a salad of roasted potatoes, broccoli, and mushrooms that can be served as a side dish with grilled meats and fish or as a vegetarian main course.
One of the reasons I love salads like this is because they are de-constructable — meaning I can separate the elements or remove parts that are offensive to sensitive palates, i.e. no mushrooms for Kid 1; no dressing for Kid 2 — but we're all still eating essentially the same thing. The night we had this, we had battened down the hatches due to gale-force winds, so instead of firing up the grill, I simply cooked some chicken breasts in a little olive oil and lemon juice on the stove. They were perfect sliced over the salad, and everyone was happy and well-fed.
Now that I've simplified this vinaigrette recipe, I'll be drizzling it over just about everything this summer. I'm not sure why, but it's especially good al fresco — well, isn't everything?
Roasted Potato-Broccoli Salad with Fresh Herb Vinaigrette
Ingredients
6-8 new red potatoes, cut into bite-size pieces
2 heads broccoli, cut into smallish florets
1/2 pint mushrooms, sliced
1 tbs. olive oil
Pinch of salt
For the Dressing:
3 tbs. olive oil
1 egg, hard-boiled
1 tbs. red wine vinegar
1 tsp. Dijon mustard
1 shallot, finely diced
3-4 tbs. chopped fresh herbs (I used approximately equal parts parsley, tarragon, and chives)
Pinch of salt
Preheat the oven to 400 degrees. Toss the potatoes with 1/2 tbs. oil and salt, and roast on a baking sheet for 20 minutes. Toss the broccoli with remaining 1/2 tbs. oil and a pinch of salt and add to baking sheet (I kind of crowded mine because I really only wanted to use one pan, and it worked fine), roast for 15-20 minutes more, adding mushrooms to pan about 5 minutes before the potatoes and broccoli are done. The goal is for everything to be done at about the same time; I like my roasted veggies pretty well done.
For the vinaigrette, put the yolk of the egg in a bowl and smash with the back of a spoon, making a paste. Drizzle in the olive oil, whisking constantly, until smooth. Stir in vinegar, mustard, shallots, and herbs. Chop the remaining egg white and add to dressing. Taste and add salt if necessary. Toss with roasted vegetables, or serve on the side.