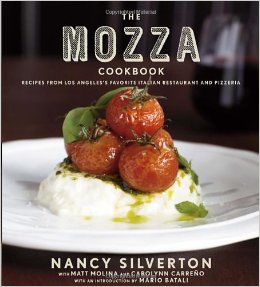 It's not very often that I can say that I've improved on a beloved recipe. And even rarer still when that recipe is from a beloved (I mean, seriously revered) restaurant cookbook. But I really think my version of "Nancy's Chopped Salad" is better than the one in Nancy Silverton's book, The Mozza Cookbook.
Okay, maybe not actually better. But simpler to make and definitely just as good. And my version will keep in the fridge for a few days, which has to weigh in my favor, right?
I bought The Mozza Cookbook back in 2011 when it first came out — not because I'd been to the restaurant (I haven't. I wish.) and not because the book was extremely trendy either, I swear. I'm a cookbook geek who's obsessed with Italian food; isn't that reason enough? Oh, and the meatballs. I'd heard they are to. die. for. And they are. And while I really enjoyed reading the book and oohing and ahhing over the photos, I found most of the recipes excessively long and too complex to make more than once.
Except, of course, for this salad. I've made it a zillion times because it's really something special. (It better be; it's $18 at the restaurant.) It tastes like an Italian sub sandwich in a bowl — you know, with that tangy, oregano-y dressing. And, with a few minor modifications, it's easy enough to pull together for a weeknight meal. And just to be clear, this salad is a meal for sure. And a pretty hearty one a that. There's nothing necessarily virtuous about a huge bowl full of iceberg lettuce, meat, and cheese. But that's where my "improvement" comes in.
Since my current obsession is salads that keep (and because, while I would never judge people who do, I don't really like iceberg), I subbed shredded kale and red cabbage for the lettuce, and like I bragged about above, it was really, really good. Dare I say even crunchier and more satisfying than the original. And definitely more nutritious. Plus, it's easier since you can just buy a bag of chopped kale salad mix and dump it in instead of chopping heads of lettuce and radicchio. (I used Trader Joe's Cruciferous Crunch, but you could also use this, which I've seen at King Soopers, but you might need two bags.)
In the book, Ms. Silverman has you cooking dried chickpeas with a mirepoix of veggies and herbs tied into a bundle of cheesecloth, which I'm sure is divine. But I used the canned kind, and that's what I'm gonna tell you to do. If you ever have an extra six hours or so to pull dinner together, definitely make these though.
Nancy's Chopped Salad (slightly adapted from The Mozza Cookbook: Recipes from Los Angeles' Favorite Italian Restaurant and Pizzeria)
Serves 4 as a meal
Ingredients (Feel free to reduce the amount of meat or cheese, or anything else if you're so inclined.)
For the Vinaigrette:
2 1/2 tbs. red wine vinegar
2 tbs. dried oregano
1 tbs. freshly lemon juice, or more to taste
2 cloves garlic, smashed and minced
1/2 tsp. kosher salt, plus more to taste
1/4 tsp. ground black pepper, plus more to taste
1 1/2 cups extra-virgin olive oil
FOR THE SALAD
1/2 small red onion, cut in half from top to bottom
1 large bag chopped kale & cabbage salad mix
1 pint grape tomatoes, cut into quarters
Kosher salt
1 1/2 cups no-salt-added chickpeas, drained
1/4 lb. provolone, cut into 1/8-inch-thick slices, then cut into 1/4-inch-wide strips
1/4 lb. Genoa salami, cut into 1/8-inch-thick slices, then cut into 1/4-inch-wide strips
5 pepperoncini (stems discarded), cut into thin slices (about 1/4 cup)
Freshly squeezed juice from 1/2 lemon (1 tbs.), or more to taste
Dried oregano, for sprinkling
For the vinaigrette: Whisk together the vinegar, oregano, lemon juice, garlic, and the salt & pepper in a medium bowl. Let the mixture rest for 5 mins. (to marinate the oregano). Add the oil in a slow, steady stream, whisking constantly to form an emulsified vinaigrette. Taste for seasoning, and add salt or lemon juice as needed. This makes more than you will need for this salad; store in the fridge for up to a week.
For the salad: Separate the layers of the onion and stack two or three layers on top of one another, then cut them lengthwise into 1/16-inch-wide strips. Repeat with the remaining onion layers. Place the onion in a small bowl of ice water to sit while you prepare the rest of the ingredients. Drain the onion and pat dry with paper towels before adding to the salad. (I didn't do this, but I assume it's to keep the onion fresh while you're busy chopping the rest of the ingredients.) Cut the tomatoes in half, season them with salt to taste, and toss gently.
Combine the salad mix, tomatoes, chickpeas, provolone, salami, peperoncini and onion in a large, wide bowl. Season with salt to taste, and toss to thoroughly combine. Drizzle 6 tbs. of the vinaigrette over the salad, then sprinkle with the lemon juice; toss gently to coat the salad evenly. Taste, and add  2 tbs. more of the vinaigrette, plus more salt and/or lemon juice as needed.
Pile the salad onto serving plates and sprinkle the dried oregano leaves on top and serve.