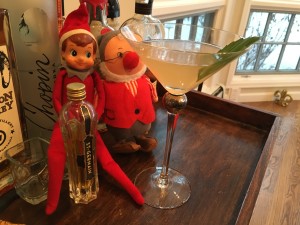 Well here we are, December 22nd. I'm not exactly sure how that happened. Every year I vow I'm going to slow down and enjoy the holiday season, and then every year I get to about this point and realize the last few weeks have been a total blur. Work deadlines, high school applications, end-of-the-year insurance-deadline doctor appointments, car repairs, expensive and high-tech Christmas lists, pressure to see Star Wars before hearing spoilers—all were threatening to come between my family what Chevy Chased called "a good, old-fashioned family Christmas."
But that's okay. The presents are (for the most part) bought, the tree is decorated, and the cards are mailed (whew). Now it's time to cook, wrap, bake, watch Elf, and avoid the mall/post office/Target at all costs. I really enjoy these last few days before Christmas and can really feel the peace, love, and hope that the holiday brings. I hope you feel them, too. (Oh by the way, that is not an "Elf on the Shelf" in the photo. He's just an elf who I've had my entire life and who sits on our bar during the holidays adding no stress at all.)
If you're going to be doing any cooking, here are two festive recipes that you might want to include on your ingredients lists. For a little extra holiday cheer, the first is a cocktail that's just plain delicious. It's my attempt to copy a drink I had at one of my favorite local restaurants. I'm not sure this is exactly how they make it there, but it tastes the same to me.
The second recipe is a salad that my whole family absolutely loves and I'll be making to go with dinner on Christmas day. It's a healthy take on my all-time favorite holiday side dish: Waldorf salad. This version includes kale (in case you hadn't noticed, I'm obsessed), and the dressing gets its "creaminess" from apples. Yes, apples. Plus, it's crunchy and pretty and satisfying for lunch the next day.
Whether you're hosting or visiting family or just hunkering in at home, I wish you a wonderful holiday.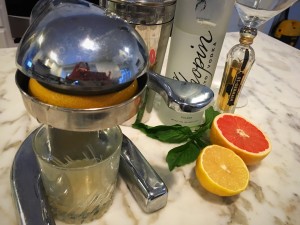 Grapefruit-Jalapeno Martini (makes 2)
Ingredients
2 oz. vodka
Juice of 1 grapefruit
2 tsp. fresh lemon juice
2 oz. jalapeno simple syrup (recipe below)
1 tsp. St. Germain
2 basil leaves
Combine all the ingredients in a cocktail shaker with ice and stain into a glass. Garnish each drink with a basil leaf.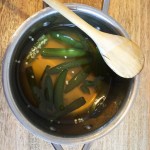 Jalapeno Simple Syrup
Ingredients
1 cup water
1 cup sugar
1-2 jalapeños
Combine sugar and water in saucepan over medium-high heat. Stir until sugar dissolves. Slice the jalapeño(s) lengthwise into strips (remember to avoid touching your eyes after touching hot peppers) and remove the seeds (you can leave the seeds in if you want your syrup extra spicy). Add sliced jalapeno and bring to a simmer. Reduce heat to low and cook for 12-15 mins. Remove from heat. Cover and let steep for 10 mins. Strain syrup using a fine mesh strainer into a mason jar or pyrex container. Store in the fridge until ready to use (will keep for about two weeks).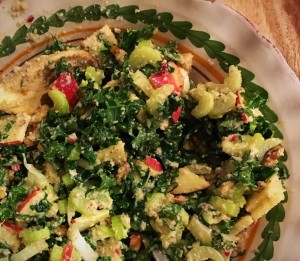 Kale Waldorf Salad
Ingredients
1/2 head finely chopped raw kale (I use curly kale, not the Tuscan variety; make sure and remove the tough center ribs before chopping the leaves.)
1
 large red apple, cut into bite-size pieces (I have made this with organic Honeycrisp, Braeburn, and Winesap—all delicious.)
1 cup thinly sliced celery (organic)
1/4 
cup walnuts, chopped
For the dressing:
½ chopped apple
¼ cup walnuts, chopped
1 
tbs. Dijon mustard
1
 tbs. red wine vinegar
2 tbs. fresh lemon juice (about ½–1 lemon)
Salt
3-5 tbs. extra virgin olive oil
Make the dressing: Put the 1/2 cup chopped apple in a blender along with 1/4 cup walnuts, mustard, lemon juice, vinegar, and salt. Purée until well combined and slightly thick. Slowly add oil until desired consistency. Pour dressing over kale and toss to combine with remaining ingredients. Taste, add salt & pepper, and toss again.