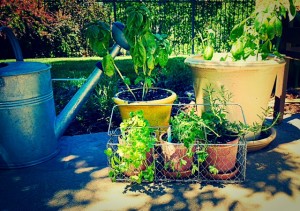 One of the things people tend to assume about me is that I have a huge kitchen garden. I guess that's a fair assumption, but the truth is, my experiences with gardening have been limited and somewhat disheartening. Several years ago, we planted a small garden on the south side of our house, which did okay until the squirrels discovered the eggplants and tomatoes, and then the extreme heat killed my arugula. We did get some seriously ugly but delicious carrots and (of course) bushels of zucchini (why, I ask, don't squirrels like zucchini?). Then some new neighbors moved in next door and built a six-foot fence between our garden and the sun. I was secretly relieved to be back at the farmer's market instead of sweating over bug-infested cabbages.
After that we started growing hot peppers and tomatoes in pots, with varying degrees of success — although we'd usually end up with at least enough to make several small jars of this crazy-good hot sauce, so more than worth the effort.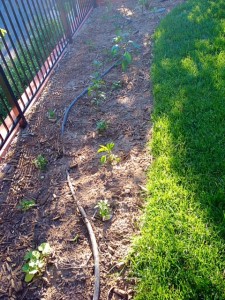 Now, since we moved and have some space to do it, we felt compelled to garden again. So far, I can't report any crops, but the plants are there and look healthy to me. I just got Alice Water's latest book, The Art of Simple Food II: Recipes and Inspiration from the New Kitchen Garden, and while some of the chapters — such as the ones on sowing seeds and cover crops — are a little intimidating, the basic premise, "Grow what you love to eat," is really inspiring. And the recipes of course are amazing.
In the meantime, I have my herb pots. I have been growing herbs in pots since my wedding shower when my sister gave me an awesome herb garden planted in a giant galvanized aluminum beverage tub, which is a great gift idea by the way (we still have that tub almost 15 years later, although now we use if for keeping beer cold at parties).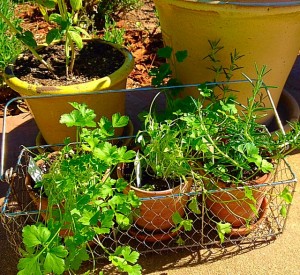 If you don't already grow your own herbs, here are a few reasons why you should:
Cooking with fresh herbs is fun; it feels very "chefy" to do things like chiffonade.
Fresh herbs accentuate food and really make the taste of your dishes stand out.
Herbs can be expensive to buy in the grocery store.
Most recipes only call for a small amount of fresh herbs, so you often end up wasting half the bunch.
Herb plants are beautiful and they smell incredible.
Herbs are really easy to grow, and you don't need a yard or even a patio.
Just like Alice Waters says, I grow the herbs I like: basil, flat-leaf parsley, rosemary, cilantro, thyme, and mint. Whenever a recipe (like the one below) calls for a tablespoon of fresh basil or a "few sprigs" of thyme, I just mosey out to my pots and snip. No waste, and no substituting powdery, probably years-old dried herbs (which is fine in general but not nearly as tasty or fun). I can garnish my Cucumber Collins without having to buy an entire container of mint.
Once you have your potted herbs (which can be today if you go down to the store and buy some plants), a whole world of recipes awaits. Waters' book contains recipes using dozens of different herbs, including Green Rice Pilaf with Cilantro and Onions, Crab Salad with Tarragon, and Lemon Verbena Ice Cream. I find, because I have them so handy, I use fresh herbs in almost everything I cook. I add them to vinaigrettes, pasta sauce, omelets, and I toss them into the pan with the vegetables I roast. I love to make mint simple syrup to add to cocktails and limeade.
Here's an easy recipe for using fresh herbs to bring out the flavor of delicious summer vegetables. I love grilled vegetables, and this is my favorite way of making them. Plus, they look gorgeous, don't they?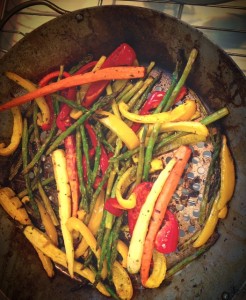 Lemon-Herb Grilled Vegetables
Ingredients
1 cup olive oil
2 tsp. salt
1 tsp. pepper
2 cloves garlic, minced
1 tbs. fresh rosemary, chopped
1 tbs. chopped fresh thyme
2 tbs. chopped fresh parsley
Juice of 1 lemon (roll it on the counter with your palm before cutting and juicing)
1 lb. carrots (look for white and even purple ones), trimmed and peeled and cut in half lengthwise if they are especially thick
1 bunch asparagus, woody ends snapped off
1 red bell pepper, stemmed, seeded, and cut lengthwise into strips
1 yellow bell pepper, stemmed, seeded, and cut lengthwise into strips
(Of course, you can use any selection of veggies you want, but I liked this assortment for their pretty colors and relatively similar sizes and shapes)

First, chop the herbs. If you're not sure how to do that, here's a nifty video. In a large bowl with a lid, combine oil, salt, pepper, garlic, chopped herbs, and lemon  juice. Add vegetables, cover tightly, and shake to coat vegetables with marinade. Let stand for about an hour at room temp. Preheat grill to medium. Oil grates or use a stainless steel grill basket like I did. Place veggies on grill and cook for 10 minutes. Shake and cook another 10-15 minutes, until charred to your liking. Serve warm, room temperature, or cold.