In March I completed a Whole30. In case you're wondering, a Whole30 is kind of like a "tough love Paleo cleanse." Basically it's committing to 30 days of strictly clean, paleo eating (i.e. no cheating and absolutely no processed food, even "Paleo bread," etc.). In other words, you don't consume grains of any type (wheat, rice, corn, oats), dairy products (milk, cream, yogurt, ice cream), sugar (except fruit), legumes (beans, lentils, soy, peanuts), or alcohol for a month. Nor do you make things like the Paleo Granola recipe in this post, which is basically a treat made with Paleo-friendly ingredients and, according to the Whole30 folks, is missing the whole point. You can't reset your metabolism, detoxify your body, and curb your food cravings (all of which are goals of Whole30) if you continue to eat crunchy, delicious granola and almond-flour biscuits, now can you?
You might be asking, why would anyone want to do this? I know, right? But, even though I am generally a healthy eater, I had gained some weight last fall and over the holidays, and my annual January-February "righting the ship" routine was failing to produce results. Basically, I needed a re-set. So I decided drastic measures were in order.
Of course, this being me, I did a "modified" Whole30. (Which I realize is really not a Whole30 at all, according to the purists.) But other than 1 tbs. of cream in my coffee and the occasional glass of wine, I was pretty darn strict. After the first few days—during which I fixated on all the foods I couldn't have, had headaches, and just wanted to get in bed—I got into the groove and definitely noticed my carb and sugar cravings fade. I did lose the extra pounds, but the change in my appearance wasn't just about weight. My skin was clearer and brighter, and my hair seemed less dry. Plus I slept great and definitely had more energy.
The only way to succeed at a Whole30 is to plan ahead, get really organized, clear your social calendar, and try to get your family (at least spouse) on board. Oh and toss whatever Halloween/Christmas/Valentine's/ Easter candy is still lurking in your cupboard/freezer/kids' rooms. If you can do all those things, it's a really fascinating way to push yourself and clean up your act. I had never even come close to sticking with a program this strict (even though in theory you can eat as much as you want—no measuring, no counting calories), and my ability to do so surprised me.
So, is it worth doing a Whole30? I absolutely think it is. But it's not intended as a full-time lifestyle. Even Paleo purists indulge in the occasional cauliflower-crust pizza with almond cheese. Since finishing my 30 days, I have reintroduced some legumes (I'm not on board with the no-legumes part of the Paleo diet), Parmesan cheese, and dark chocolate. Oh, and tortilla chips (okay, and tequila; went to Mexico for spring break). Generally, I've gone back to my 80-20 lifestyle, which seems to work for me. But I'm glad I stuck it out and plan on doing another Whole30 next winter.
In the meantime, I'm making batch after batch of this Paleo Granola (which I realize is not a real thing and definitely not Whole30 compliant). This is a real treat. It just happens to be a clean, grain-free, and relatively healthy alternative to most breakfast cereals. I love it with lots of fruit and a little almond milk.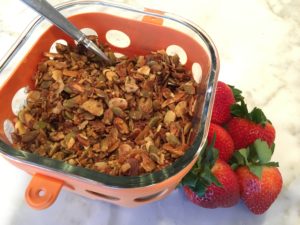 Paleo "Granola"
Ingredients
1 cup sliced almonds
1 cup pumpkin seeds
1 cup pecans, chopped
1 cup unsweetened shredded coconut
1/4 cup pure maple syrup
½ cup coconut oil
1 tsp. salt
Preheat oven to 300 degrees. Pulse the pecans and coconut a few times in the food processor if you want all your ingredients to be relatively the same size; if not, don't worry about it. Put all the ingredients in a large microwavable bowl, heat in the microwave for 30 seconds, and mix well. Spread mixture onto a baking sheet. Bake for about 20-25 minutes, stirring occasionally to keep from burning. Let cool. Store in a jar with a tight-fitting lid.