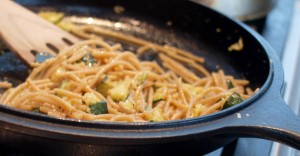 After The New York Times published this misleadingly titled article last week, I had planned to dedicate this post to (yet another) defense of organic food and the people who choose to eat it. (The article outlines the findings of a research review conducted at Stanford, which concluded that organic foods are not significantly higher in nutrients than conventional foods. It also showed that consuming organic foods "may reduce exposure to pesticide residues and antibiotic-resistant bacteria." My initial thought was, Well, duh.) However, several intelligent and well-crafted responses say more or less exactly what I would have said. So, instead of ranting, I'll recommend you read this and especially this.
Besides, I have something really delicious to share! This is the perfect thing for a night when it's cold outside but still officially summer. If you're one of those people with a bumper crop of zucchini (or are the neighbor/sibling/friend of one) who has made Every. Single. Zucchini recipe. and is frankly sick of the stuff, I urge you to try this. It's different from other zucchini-based pasta recipes I've tried in that the zucchini is slow cooked and kind of melted so it becomes an earthy, rich, and nutty-tasting sauce.
This is the kind of incredibly simple recipe that transforms its ingredients and makes me just love cooking—and eating.
Pasta with Melted Zucchini Sauce
Ingredients
2 tbs. extra virgin olive oil
2-4 large zucchinis, diced
1 lb. pasta such as whole wheat spaghetti or capellini
Salt & black pepper
Fresh Parmesan cheese
Heat the olive oil in a large skillet. Add the zucchini and toss. Cook slowly over low-to-medium heat for about 20-30 minutes, stirring frequently. The zucchini will brown slightly and start to fall apart. Cook the pasta in a large pot of boiling salted water until it's slightly more underdone than you'd like. Before draining, scoop out 2-3 cups of the starchy pasta water. Add a cup of the water to the cooked zucchini, stir, and bring to a boil. Repeat if necessary until the sauce is thick and creamy. Toss in the cooked pasta and add a pinch of salt and lots of freshly ground pepper. Cook a few minutes more until pasta is al dente. Grate cheese over the top before serving. Enjoy!