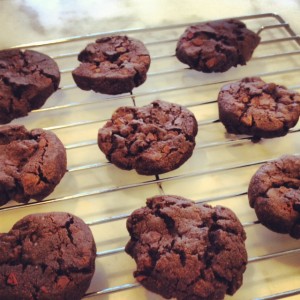 You should bake these cookies. They will make your eyes roll, and your loved ones will love you even more.
I know. Who am I to tell people what to bake? It's not a secret that I don't bake much — recipes that require measuring a "precise 1/8 teaspoon" or, you know, actually following the directions, tend to throw me — so it's understandable that this blog wouldn't be the first place to look for a great cookie recipe. But that's exactly why you should trust me on this.
First, because I'm obsessed with real food, I tend to think that if you're going to have things like cookies, have ones made out of recognizable ingredients like fresh organic eggs, real butter, and unbleached flour — without artificial chemical preservatives and trans fats. And if I'm going to take the time to read a recipe all the way through, get myself covered in flour, and actually measure something precisely, you can bet whatever I'm baking will be damn good. These are damn great. They're dark-chocolatey and crumbly and unexpectedly salty. I think they seriously are the best cookies I've ever had.
They're called World Peace Cookies because Dorie Greenspan, the cookbook author who first published the recipe, was told that all the world needed to ensure everlasting peace was for everyone to eat one of these cookies every day. It certainly couldn't hurt.
During the holidays you're probably going to bake (and eat) some cookies. And I'm sure your Christmas cookie repertoire is amazing. But while you've got the mixer and the sifter and those teeny-tiny measuring spoons out, why not help promote peace on earth, too?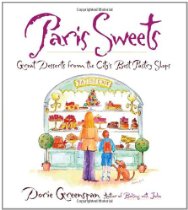 World Peace Cookies
(I take no credit for this recipe; it's from Paris Sweets: Great Desserts from the City's Best Pastry Shops by Dorie Greenspan. My comments are in [brackets].)
Ingredients
1 1/4 cups all-purpose flour
1/3 cup unsweetened cocoa powder
1/2 tsp baking soda
1 stick plus 3 tbs unsalted butter, at room temperature
2/3 cup (packed) light brown sugar
1/4 cup sugar
1/2 tsp fleur de sel or 1/4 tsp fine sea salt
1 tsp vanilla extract
5 oz bittersweet chocolate, chopped into chips [I used mini chocolate chips]
Sift the flour, cocoa and baking soda together. [I didn't do this, I have no sifter, so I just whisked them together.] Working with a stand mixer or with a hand mixer in a large bowl, beat the butter on medium speed until soft and creamy. Add both sugars, the salt, and vanilla and beat for 2 mins. more. Turn off the mixer. Pour in the flour mixture. Cover the mixer with a kitchen towel and pulse the mixer at low speed about 5 times, a second or two each time. Take a peek — if there is still a lot of flour on the surface of the dough, pulse a couple of times more; if not, remove the towel. Continuing at low speed, mix for about 30 seconds more, just until the flour disappears into the dough — for the best texture, work the dough as little as possible once the flour is added, and don't be concerned if the dough looks a little crumbly. Toss in the chocolate pieces and mix only to incorporate.
Turn the dough out onto a work surface, gather it together and divide it in half. Working with one half at a time, shape the dough into logs that are 1 1/2 inches in diameter. Wrap the logs in plastic wrap and refrigerate them for at least 3 hours. (The dough can be refrigerated for up to 3 days or frozen for up to 2 months. If you've frozen the dough, you needn't defrost it before baking — just slice the logs into cookies and bake the cookies 1 min. longer.)
When ready to bake, center a rack in the oven and preheat to 325°F. Line two baking sheets with parchment or silicone mats. Working with a sharp thin knife, slice the logs into rounds that are 1/2 inch thick. (The rounds are likely to crack as you're cutting them — don't be concerned, just squeeze the bits back onto each cookie.) [Mine broke apart completely, causing me to panic slightly, but I just squeezed the dough together as best I could and baked them; they turned out fine. Better than fine.] Arrange the rounds on the baking sheets, leaving about one inch between them.
Bake the cookies one sheet at a time for 12 mins. — they won't look done, nor will they be firm, but that's just the way they should be. Transfer the baking sheet to a cooling rack and let the cookies rest until they are only just warm, at which point you can serve them or let them reach room temperature.
Packed airtight, cookies will keep at room temperature for up to 3 days [ha!]; they can be frozen for up to 2 months. They can also be frozen in log form for months, and can be sliced and baked directly from the freezer, adding a couple minutes to the baking time.
Enjoy with milk. And for breakfast. Try to make them last long enough to serve to guests. Feature them in cookie tins. I hope they bring you peace, or at least a moment of joy. Merry Christmas!