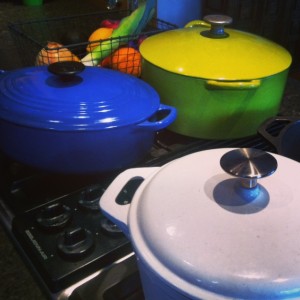 People ask me about my pots a lot. This makes perfect sense because my pots are basically the stars of this blog and they're front and center in all my cooking classes. I love my bright, heavy pots. And I just realized I kind of take it for granted that everyone knows why these pots are so awesome — beyond the fact that they are colorful additions to my stove-top and useful in strengthening my biceps — and why just about every recipe I write, here and for the REAL LIFE Meal Plan, starts with the words, "In a large, heavy pot or Dutch oven…" Maybe a little primer is in order.
First, a bit of pot-related personal history. The large, pea-green Dutch oven in this photo (any many others on this blog since Day 1) was a gift from my aunt for my "iron" (sixth?) wedding anniversary. When I first received it, I oohed over it but really had no idea what to do with it beyond the occasional batch of chili or Bolognese. Plus, it was so big that I ended up storing it in my lower oven (rarely used back then; this was the era of infant feeding schedules and Whole Foods takeout) and almost forgetting about it. When I rediscovered it a few years later, my aunt had passed away and the pot honestly had more sentimental value to me than anything else. Over the years though, I've discovered one new perfect use for it after another, and its home has moved from the oven to the stove-top. Now I still think of my aunt whenever I use the pot, which is a great because that is almost every day.
Once I realized the miracle of cooking in cast iron, I've never turned back. Cast iron cookware heats up relatively slowly and retains heat really well, allowing you to simmer foods at almost any temperature, plus it can go straight from the stove to the oven — helpful in making a lot of dishes. All cast iron is last-a-lifetime durable, and the enameled (colored) kind is nonreactive (like to acidic foods) and super easy to clean. I think there's a place in every kitchen for both enameled cast iron and the basic black kind. Both are surprisingly nonstick without using creepy chemical coatings like PTFE that can leach fumes into the air, and your food. But let's be clear,  you don't actually need one of these (or, ahem, three). A regular stock put will work for soups and stews, you can use a large saucepan for most rice dishes, and skillets work fine for browning meat. But with a Dutch oven, you can do all that — and much more — in one beautiful pot.
If you own an enameled cast iron pot or have been shopping for one, you know the rub with them: They're expensive. All I can say is I really think they are worth the investment. And some are more expensive than others. Before I tell you about my experience with several of the different brands, here are the basics of what to look for in a Dutch oven. As long as your pot has most of these design features, it should work beautifully.
First and foremost, the pot should be heavy. It's the heft that makes these things retain heat so well and last so long. The pot's sides, bottom, and lid should all be equally heavy and thick.
The lid should fit tightly and have a good-sized knob that you can grasp with an oven mitt. The lid and the knob should be oven safe; definitely confirm that this is the case before buying. Also, look for little bumps lining the underside of the lid; these collect the steam that comes off your food and use it to continuously baste whatever's cooking instead of evaporating away.
The pot should have easy-to-grab, sturdy handles on both sides.
What size you choose is a personal preference, but I would argue you should get the largest Dutch oven you can afford (and lift), probably about 5-6 quarts. You're investing in a pot that will probably outlive you, so don't get one you will outgrow in a couple years.
 As for the shape, round is probably the most popular. Round Dutch ovens theoretically work best on a stove burner because the heat will be evenly distributed over the entire base. However, if you're leaning toward a smaller pot (3-3.5 quart), you might consider oval because, since oblong is the shape of most roasts and meats, you can fit more food in a smaller pot.
So, here's the scoop on my pots:
My cherished green pot is a 6-quart Mario Batali from Crate & Barrel ($150, crateandbarrel.com). It is awesomely huge and incredibly heavy. After eight years (and very light use the first few years), it is starting to show some wear in terms of chips in the enamel and stains on the white interior. Neither of these seem to affect its cooking performance, but I'm not sure it will survive to pass down to my daughter like my mom's Le Creuset casserole did.
Which brings my to the brand most cooks associate with the highest-quality cookware, especially Dutch ovens: Le Creuset pots are made in France and, like most everything else imported from France, very pricey. My 3 1/2-quart oval pot costs $235, ouch (10-year anniversary present, thanks honey; lecreuset.com). But, after using it almost daily for over three years, I've noticed a few advantages. First, the creamy-white interior has not stained and the enamel hasn't chipped at all. Also, the cast iron is slightly thinner, making it lighter and therefore easier to use. I really like the oval shape for cooking whole chickens, too. As I mentioned, I have a Le Creuset casserole dish that my mom bought in France in the 1960s, which is still in great shape. Just think, if you get one of these, it will become an heirloom to someone.
Still, worth it or not, these are big investments. Fortunately, there are good alternatives that cost much less. First, I love my 3-quart white pot from Cost Plus (about $40; worldmarket.com). It's great for cooking up a smaller batch of rice or lentils, and is just so darn cute. Also, I have a deep Lodge saucepan that came as part of a really useful 2-piece set (the lid is also a skillet) that costs $58. Its plain cast iron surface works great for most things, although it's not recommended for tomato-based sauces and other acidic dishes. Lodge also makes beautiful enameled Dutch ovens that range from about $80-$115 (lodgemfg.com).
I've seen great deals on enameled cast iron Dutch ovens at Target and Home Goods. I'm still kicking myself for not snapping up a gorgeous Staub "Cog au Vin" pot (the one with the rooster handle) that I saw at at Home Goods for around $100 a few months ago. And just last week a friend texted me a photo of what looked like a really nice bright red Dutch oven that was selling at Costco for $79.99. There is even a Le Creuset outlet near where I live, although, like most "outlets" these days, I must say it seems slightly bogus and not much cheaper than full retail; still, definitely worth a look. My advice is to keep looking until you find just the right pot; as my son (quoting Indiana Jones and the Last Crusade) would say, "Choose wisely." This is not a disposable item.
I hope this will help you find a Dutch oven you love and can afford. Once you do, I know it earn a spot on your stove-top (since it's too heavy to put away!) for a long, long time.