Wan to sign up for a class? Have questions?
Contact me!
Gluten-Free & Paleo Family Meals (I & II)
No grains, no milk? No problem!
Even if you're not strictly gluten-free or following the Paleolithic diet, the health benefits — from weight loss to reduced inflammation — of consuming less wheat and dairy are well known. But it's a challenge to know what to eat. In this class we'll make some delicious Paleo recipes from simple ingredients. You'll be amazed at how great this incredibly satisfying food will make you look and feel!
Note: Due to high demand, I now offer two different versions of this class. You do not need to take them in order!
Next class date: Friday, May 8, 2015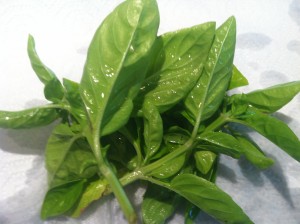 Warm-Weather Favorites — Magic Recipes
This class showcases recipes that "magically" transform simple ingredients into something amazing with minimal work on your part. Come learn to make genius ceviche, asparagus salad, and grill-poached fish (and more!) just in time for backyard dining.
Next class dates: Wednesday, April 29 & Thursday, April 30, 2015

Reboot your Family's Eating Habits – Reclaim family dinner
My signature class provides inspiration, quick shortcuts, and clear information about how to eat better — "better" being healthier, cleaner, and together with your family. We'll talk about about overcoming obstacles to making dinner happen, why you need to be punting processed food (and some easy substitutions), and how to get the most from a trip to the grocery store. Plus, you'll learn some easy, fresh recipes so you can feed your family delicious, healthy meals without losing your mind.
Upcoming dates to be announced.
Real Life Re-Stock – What to buy and why
Learn how to buy and store the foods, condiments, and kitchen gadgets that will make your life easier, healthier, and more delicious. The class covers top pantry essentials, what foods to buy organic, whether to avoid GMOs, and other current food "issues." Plus, we'll whip up a fantastic pantry supper!
Upcoming dates to be announced.
Appetizers & Small Plates – Healthier nibbles for gatherings of all types
In this super fun class, we'll make and share several delicious and healthy dishes that are perfect for any occasion — cocktail parties, casual dinners, book clubs, impromptu happy hours, etc.
NOTE: This is an evening class!
Upcoming dates to be announced.
 I am looking forward to seeing you in class!