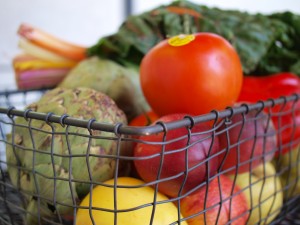 Conquer Back-to-School Stress
and Easily Feed Your Family in a Healthier Way!
New Class: Stress-Free Weeknight Meals
With crazy and conflicting schedules, one of the best ways to maximize family time (and reduce stress) is to sit down and eat together at least a few times a week. But making that happen can be more than a little overwhelming! In this class, you will learn easy kitchen and meal-planning strategies that save time and sanity amid the frenzy of back-to-school. Once you implement a few of these simple kitchen tricks, recipes, and techniques, you'll be amazed at how easy and delicious your meals can be — and how happy, healthy, and (relatively) relaxed your family dinner table is!
This class has been so popular, all the current dates are sold out!

More Dates to Come in Nov. 2012.
Time: 10:20 a.m. – 12:30 p.m.
Central Denver location
Cost: $150 per person* (includes small-group instruction, recipes, all ingredients, refreshments, and a bag of goodies to take home).
To inquire about future dates or reserve your space, click HERE.
Thank you!