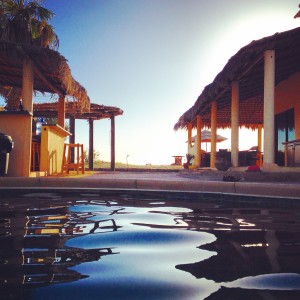 Am I the only person who does this? I go somewhere on vacation and totally overload on the local food. Then I come home and, instead of reverting to my "normal" eating routine, I continue craving that food — maybe it's lobster and clams, maybe it's linguine bolognese. In this case, it's ceviche, guacamole, and tacos.
Yes, we just got back from a week in sunny Mexico. And the psychology of this is not lost on me. (I remember once in college, someone started handing out free Butterfingers in the student center, and I thought they were going to break the company. Then after about a month of this, one day the Butterfinger people were gone. Well, guess what I — and just about everyone I knew — bought from a vending machine every day after that?)
The first thing my son said when we got off the plane was, "Can we not have any Mexican food for a while?" And the first thing I thought was, "I want a taco!" Being the primary cook in my family, I won and we had tacos. (I'm making ceviche this weekend, too.)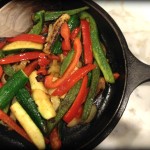 Not that this is anything special in our house. We started having Taco Tuesday sometime last year, and I really like having one night a week when I don't have to think about what's for dinner. When we first started this tradition, taco night was actually kind of a big production — mini bowls of diced or shredded toppings, several different types of tortillas — but I've gradually simplified it. And once I discovered baked tacos, I never looked back. These are super easy to make (you can even make them ahead) and a HUGE hit with the kids (I confess they taste the closest to a drive-thru taco that I've ever had at home). The baking gives them an extra crunch, and all the ingredients are all in there together, which for some reason tastes really amazing. I usually sauté some peppers and onions in a cast iron skillet to accompany the tacos, and offer the option of lettuce wraps to my non grain-eating spouse, but the tacos are perfect as is and really only need a salad to be a complete meal.
The key to making tacos healthy is, of course, the ingredients. Choose ground meat that is relatively lean (I use ground elk, but grass-fed beef or pasture-raised turkey work well, too). If you read my last post, you know that I only buy organic taco shells. This is because over 80% of conventional corn is genetically modified (GMO) and I try to avoid GMOs. I also buy organic, boxed beans (Pacific brand) to avoid chemical pesticides and BPA (synthetic estrogen). 

Space is still available for one of my most popular classes ever: Gluten-Free & Paleo Family Meals! Wed., April 8, 2015 10:30 a.m.–12:30 p.m. To sign up, Just email me: moc.suoiciledefillaernull@niveb

I can't claim these are anything like the fish tacos I washed down with a Pacifico last week (I'm working on replicating those), but they definitely hit the spot and make for a super easy family fiesta.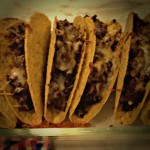 Baked Tacos
Makes 10-12 tacos
Ingredients
1 lb. lean ground meat (I use ground elk, but grass-fed beef, bison, or pasture-raised turkey are also good)
1 tbs. taco seasoning (Check the ingredients list for unpronounceable things and added sugar; I buy mine from the Santa Cruz Chili & Spice company in southern Arizona)
1 tsp. salt
1 13.5 box organic refried beans (I sue Pacific brand, but you can also used canned)
1 small onion, chopped
1 small red bell pepper, chopped (try to buy organic because peppers are on the Dirty Dozen)
1 package organic taco shells (If you're concerned about fat in fried hard taco shells, use small organic corn tortillas; the tacos just won't be as crispy. I love Food For Life sprouted corn tortillas. )
1/2 cup shredded pepper Jack cheese
Preheat the oven to 350 degrees. Put the meat in a large skillet, add the taco seasoning and salt, and brown over medium-high heat. When the meat is almost done, add the chopped vegetables and cook until soft. Stir in the beans and heat through. Make sure the meat, veggies, and beans are well incorporated. Bring a large rectangular baking dish and the taco shells over next to the stove and spoon the meat mixture into the taco shells (about 3/4 full). Stand the tacos in the baking dish as you fill them. They will want to fall over until they are all lined up in there fairly tightly. After you've filled the tacos, sprinkle the cheese over them and bake for 10 min.