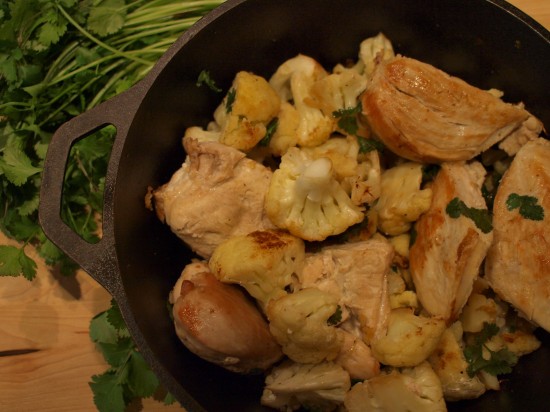 I recently learned that it's generally accepted among food writers, bloggers, and chefs that if you change at least three ingredients in a recipe you can call it your own and use it or write about it without crediting the source. Since I rarely, if ever, follow a recipe to the letter, I guess that makes me an incredibly a prolific recipe developer! Just to be clear, I don't do that on this blog. Even if I change a recipe to the point where its name no longer makes sense (like what I did to Melissa Clark's Garlic & Thyme Roasted Chicken with Crispy Drippings Croutons), I still think it's Melissa's recipe — at least until I've made it, and tweaked it, so many times that I can practically do it with my eyes shut.
This is one of those recipes. I was flipping through a magazine on the plane, and this caught my eye because I thought the combination of flavors was intriguing — a combination I'm frankly not sure I would have tried had I not seen it on the pages of Real Simple. The other night, when I finally got around to cleaning out my carry-on, I found the wadded up recipe and happened to have all the ingredients (assuming my usual habit of making drastic changes to recipes) on hand. Heck, what else was I going to do with all that cilantro left over from last week's ceviche binge?
There are a few reasons why I can highly recommend this recipe:
1) It's easy to make.
2) It's easy to "deconstruct" for the pickier members of your family. Even though it looks like a casserole or something, the ingredients are actually not mixed very much.
3) It's healthy. I substituted chicken breasts for the thighs in the original recipe, which decreased the splatter factor and increased the lean protein.
4) You'll only have to clean one dish.
5) It's delicious. We were scraping the bottom of the pan.
One-Pot Chicken with Cauliflower & Cilantro
Ingredients
Three large boneless, skinless chicken breasts
1 tbs. olive oil
Kosher salt and black pepper
1 head cauliflower, cut into florets (If you're not sure how to cut a cauliflower, here's a super quick video of how I do it.)
2 small diced chiles (I didn't have these so left them out. More kid friendly.)
1 tbs. fresh lime juice plus lime wedges for serving
1/2 cup fresh cilantro leaves
Heat your oven to 450 degrees. Heat the oil in a large ovenproof skillet (like cast iron) over medium-high heat. Season the chicken with a pinch of salt & pepper. When the oil is hot, cook the chicken until well browned on one side (about 6 minutes). Transfer to a plate. Add the cauliflower, chiles, and a pinch of salt & pepper to the skillet and toss to coat. Roast cauliflower for 10 minutes. Nestle the chicken (I cut the breast halves in half) browned-side up on top of the cauliflower and roast until cauliflower is tender and chicken is cooked though (another 10-15 minutes). Add the lime juice and cilantro to the hot skillet and toss to combine. Serve with lime wedges (or not).
(The Real Simple version is called "Crispy Chicken Thighs with Cauliflower and Cilantro," and I'm sure it is even more delicious than mine — hello, chicken skin! The only difference in the instructions is to cook the chicken skin-side down in the skillet for 6-7 minutes, set aside, and pour off most of the drippings before adding the cauliflower. Then you can proceed as above, although you simply roast the chicken on top of the cauliflower the entire time; I was worried about overcooking the breasts since they're so much drier than thighs.)
If the idea of adapting recipes to make them your own feels daunting or scary to you, I have a class for that. I can teach you how to develop confidence around flavor combinations and cooking methods so you can get creative — and have a lot more fun — in the kitchen!