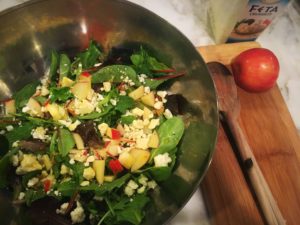 The other night, three friends and I catered a dinner party as a donation to our school auction. After we spent weeks trying to "mutually agree upon" a date for the party (always the worst part of events like this), we had a great time planning the menu, wine, and the table decor, coordinating the shopping, and prepping, cooking, and serving the meal. We the wait staff forgot to feed ourselves, so it was a total feeding frenzy behind the scenes. Not pretty.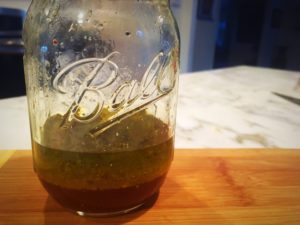 Out of an entire four-course meal, a (slightly fancier) version of this salad was our favorite thing we made. Don't worry about fancy; it's the dressing that makes it so good. (Although if you have the energy to fry some fresh sage leaves in butter, it certainly won't hurt.) Going for a fall theme, I messed around with several vinaigrette ideas before coming up with this tangy, sweet, garlicky maple combo. It pairs deliciously with salty feta cheese and crunchy honey crisp apples.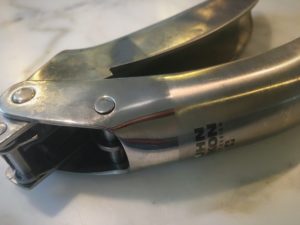 To get the garlic taste to come through, I busted out my garlic press. If you don't have one of these or if you have an old one that doesn't work very well, I think a good garlic press is worth having. I recently replaced the one that had been in my utensil drawer since college with this bad boy, and wow does it press every bit of pulp out of a garlic clove, it's very satisfying. I think it's actually easier than mincing garlic with a knife (did you know you don't even have to peel the garlic?). And the garlic taste you get from pressed garlic is definitely stronger. When I make tomato sauce or a flavor base for soup, I mince. But for salad dressing, I press.
We ate this with our fingers the other night. Fringe benefit of being "The Help."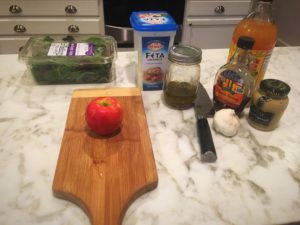 Mixed Greens with Feta and Apples in Maple Vinaigrette
Ingredients
3 tbs. apple cider vinegar
3 tbs. maple syrup
1 garlic clove, pressed
1/2 tsp. dijon mustard
Salt
Pepper
Pinch crushed red pepper flakes
1/3 cup extra virgin olive oil
6 cups baby romaine or mixed field greens
1/2 honey crisp apple, sliced right before serving
4 oz. feta cheese, crumbled
Make the dressing by putting the vinegar, maple syrup, garlic, mustard, salt, pepper, red pepper flakes, and oil in a jar with a tight-fitting lid. Shake well and taste. Add more salt & pepper if needed. Toss the greens, feta, and apples in a large bowl. Season the salad with salt and pepper; toss with the dressing.